Dried freshwater clams anyone?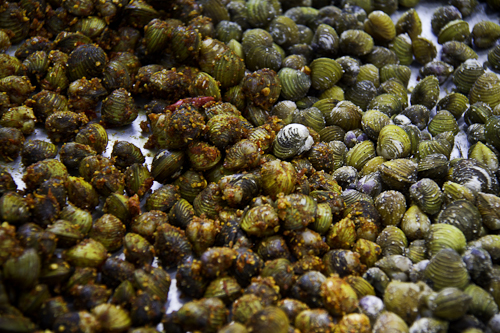 It's like some form of neurotoxic shellfish poisoning is gleefully calling my name whenever I see these big aluminum trays of clams. They get pushed around Phnom Penh's busy streets all day under the hot sun. Photos courtesy of Keith Kelly.
My Khmer colleague calls these freshwater clams "liah". She and others at the office love it, and whenever we go to the Ministry of Health on Kampuchea Krom Blvd we're asked to buy some of this stuff from a particular stall a block away from the Ministry that supposedly sells the tastiest, freshest liahs in town. They're more expensive at $1 a can than the ones sold by the pushcart sellers (I think their clams are 1500riel/$0.38 a can). I'm not much of a risk-taker in general, and with Tristan around my decisions now seem governed by a near-obsessive-compulsive level of risk-mitigation. But my colleagues rave so much about these things I had to try it.
Contrary to what I previously thought, they aren't raw. These clams are coated in salt for an extended period and boiled. That kills off most of the e. coli and other toxins. Whew. Cuz Tristan, who wants a piece of whatever people around him are eating, managed to snag one and suck the meat out! Check out this short video made by a Khmer media student, dmcsamadee, about them:
Tags: Cambodia, freshwater clam, liah