how to unlearn those first words.. as in, quit cursing, Tristan!
We're realizing these days how much swearing we do. Just when I caught myself after dropping a piece of mango on my shirt, Tristan helpfully piped up with "oh sh*t". We're hearing "oh man", "dammit" and others fairly often too. Tristan's every sense sucks everything up; his memory bank locks it all in, and at just the right moments he pelts those newly learned words innocently back at you. We can't help but smirk cuz it's oftentimes in context, but that just eggs him on.
Worse are the English phrases which our Khmer colleagues get a kick out of for no apparent reason than it just sounds funny to them, and can repeat all day long because it triggers the giggles. This makes a long car ride unpleasant real quick when people are yelling "cal-uh-mine lotion!" or "oh-my-god!" out of context, in a very strong Cambodian accent, with Tristan eventually joining in. Or when his nanny teaches him "one-two-TREE". It's cute, but we've asked Sopheap – tactfully – to teach him Khmer words instead :-)
Monkey see, monkey do too. Here's a cool trick he learned last night!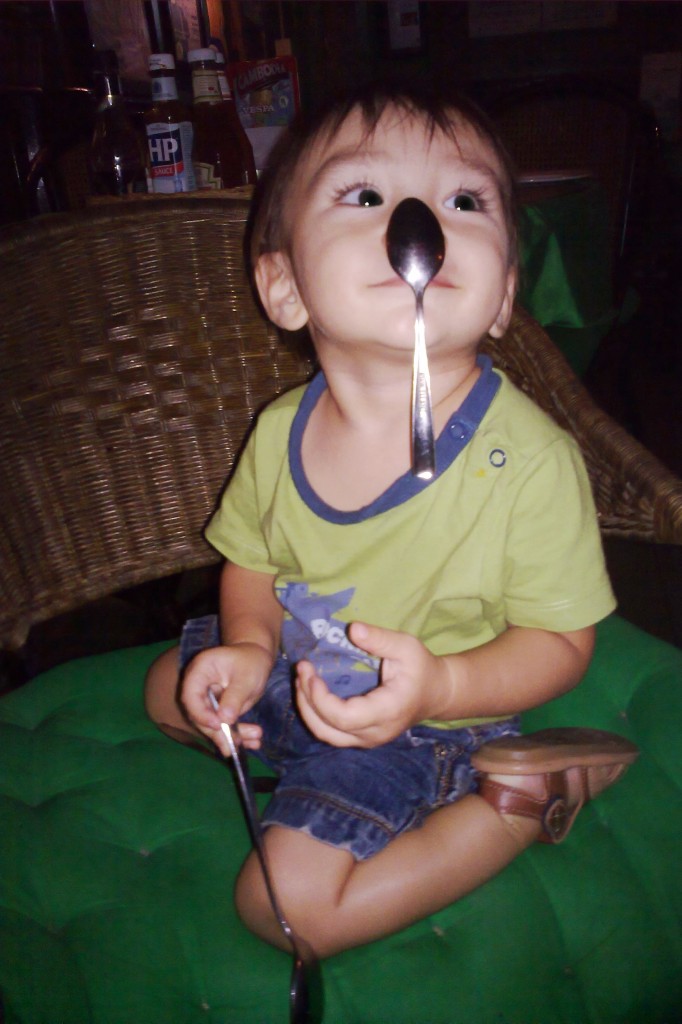 Tags: parenthood, parenting, toddler, tricks