Update 2 Nov 2018: I'm a public health professional now based in NYC after over ten years in Southeast Asia. My background is in Quality Improvement (QI) and fostering cross-collaborative opportunities to strengthen systems and communities.
When I first arrived in Cambodia it was still on the rebound from decades of conflict, building up a health corps and infrastructure with significant foreign assistance. It struggled with metrics like an MMR of 430 in 2003. I worked on teams that collaborated with partners and the Ministry of Health in establishing a culture of quality. The projects supported Cambodia's national initiatives – specifically the national push for universal health care and building the capacity of the health system. My last major project there entailed working with the Quality Assurance Office of the Ministry of Health to design a system for measuring Quality of Care in public hospitals and health centers. I blogged about it here.
Home is where family is, and we brought the kids back to NYC three years ago so we can all spend time with my aging Lola. Industries across the US were undergoing massive changes as the Affordable Care Act shifted the focus of health care to include broader factors that impact health outcomes. I worked with the municipal hospital system, which is transitioning from hospital-based disease-oriented care to primary care and community-based preventive approaches.
Both systems – despite vastly different resources and health care priorities – are aiming to make basic, essential primary care the cornerstone of their health systems.
Lola passed away recently after a journey with dementia. After 13+ years of working at the systems level and in environments undergoing reform, navigating care from the patient's perspective for the very first time was an eye-opening experience.
It's an exciting time to be in this field. I'm interested in organizations with a focus on underserved communities/vulnerable populations. I like projects that take a systems approach to translating policy to action, and fostering cross-sector engagement to inform the policy sphere. I want to build on my background in QI to measure progress and use data to inform systems and community strengthening.
Download my CV or check out my profile on LinkedIn, and see photos of my field activities with USAID or GIZ. Photos from NYC H+H aren't too exciting cuz it was mostly office work!
Technical writing samples 2010-present (Updated 23 May 2019):
Global Fund Observer Issue 284 | 6 April 2016: The Global Fund has been backing away from efforts to promote generic competition
Global Fund Observer Issue 280 | 10 February 2016: Contracts with Sub-recipient resume as Cambodia's dispute with The Global Fund ends

Global Fund Observer Issue 278 | 24 December 2015: 

The TERG recommends measures to enhance health systems strengthening

 

Note: TERG is the Technical Evaluation Reference Group, an independent advisory group accountable to the Board of the Global Fund to Fight AIDS, TB & Malaria
Global Fund Observer Issue 274 | 04 November 2015: Global Fund has no immediate plans to promote the inclusion of the new malaria vaccine in the programs it supports
Global Fund Observer Issue 273 |19 October 2015: Marking a progression in its HIV landscape, Vietnam chooses a civil society PR
Global Fund Observer Issue 271 |23 September 2015: Turning a funding crisis into opportunity
Global Fund Observer Issue 264 |15 April 2015: Turning the page on the past, Cambodia looks to NFM as a fresh start
Report on the Global Fund position in Southeast Asia and Western Pacific, commissioned by the Australian Department of Foreign Affairs and Trade (DfAT) and submitted in September 2015. The pieces on the Artemisinin Resistance Initiative (RAI), Myanmar, Cambodia, Laos, Vietnam, and Philippines were written by me.
Round 10 Proposal for the Global Fund, Health Systems Strengthening component for Cambodia. Commissioned by WHO in 2010.
Blog Posts:
Meanwhile on a personal level, I like to travel with my family. Two summers ago we took a tour of Southeast Asia with two preschoolers in tow. I park select thoughts on this blog, mostly to keep family and friends in the loop. I also post things I find interesting in global health and development, politics and parenting, on Twitter or on Facebook.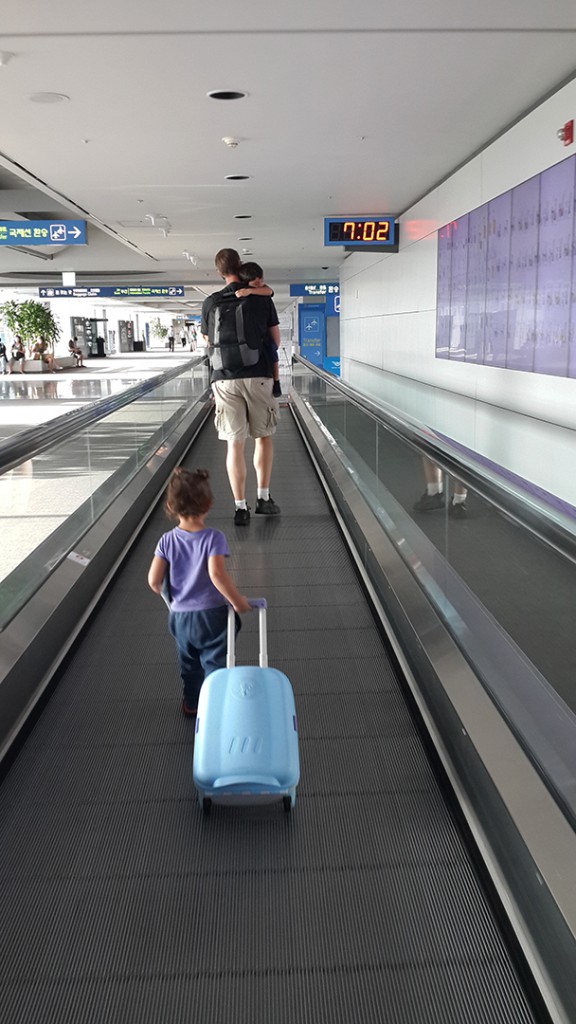 I like to support efforts that raise diversity awareness, and getting involved in political action – particularly on issues affecting minorities, immigrants, disadvantaged and underserved populations. We were even extended an invitation by Obama to the White House after the 2008 elections because we blew the records for voter registration worldwide, beating even the mega-expat hubs of Germany and the UK!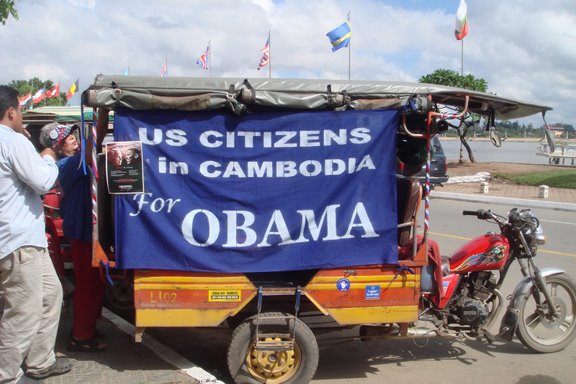 Currently I'm assisting a small project that gives scholarships to girls in rural Cambodia; it was begun and maintained by my old Khmer language tutor, Madame Soun Neang. It was her life's mission to ensure that young girls in her home province of Kampong Thom, Cambodia, finish their education. But she's growing old and suffering chronic illnesses, so she requested help from friends, to ensure that this latest group of girls finish their university education. Fees from her continued Khmer language tutoring go towards the associated costs of these girls' education (eg covering the family's lost income by the girls attending school instead of working). Donations from friends and colleagues in both Cambodia and the US augment her meager tutoring salary.
Please visit their website for stories about the girls and their families, and updates on the issue of girls' education globally. Below is a description of their group, Proteep (ប្រទីប):
"Proteep" (ប្រទីប) means light. In Cambodia, many girls are denied an education because families are too poor and choose to send their son to school instead. Yet when a girl goes to school, the cycle of poverty can be broken and the benefits can last for generations. As Mme. Soun Neang says, "I see the difference between my own life and my older sister who never went to school."

Drawing her inspiration from her own story, in 2004, Mme. Suon Neang decided she wanted to make a difference and began to provide scholarships to girls from poor families who would not otherwise have gone to school or been able to complete their education. She selected four girls who were good students and had completed third grade. These girls have since completed their university education.