Check out my LinkedIn, and see photos of my field activities with USAID or GIZ, or from NYC Health + Hospitals. Below are some of my projects, with hyperlinks to work samples.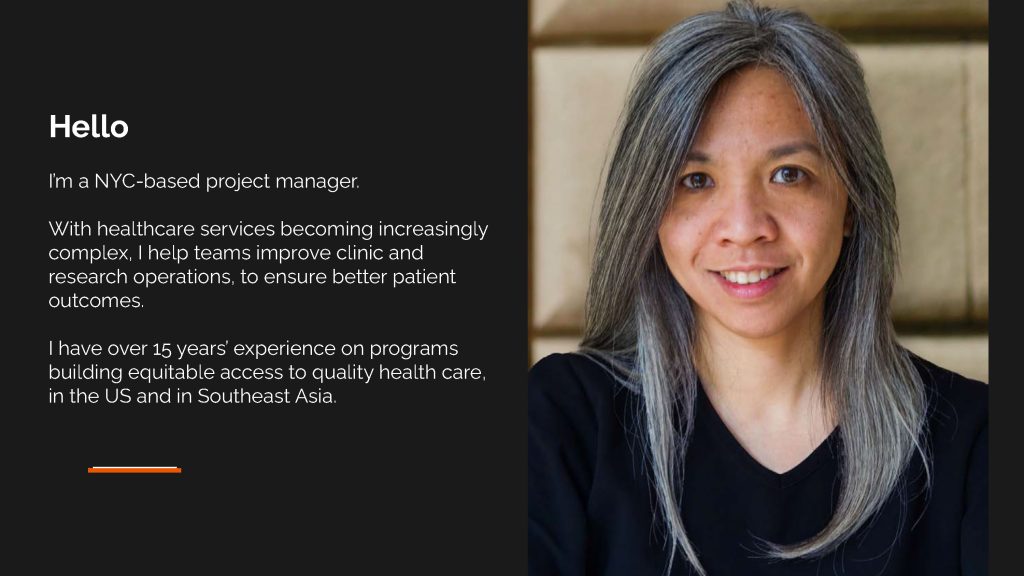 COMPETENCIES AND RESULTS
Some career highlights are below:
I facilitated the successful launch of a prospective clinical registry, by a research collaborative at Columbia University Medical Center. I trained over 45 data coordinators in 24 pediatric heart centers across the US and Canada in complex, clinically-heavy data abstraction. I guided development of site-specific and program level systems and processes, creating efficient workflows for accurate and timely data capture. The goal was faster, more agile access to patient data and analytics, for research, to support treatment decisions for congenital heart disease patients.
At NYC Health + Hospitals, I supported 17 HIV Clinics in meeting state targets in their clinical endpoints of HIV care. I standardized a process for HIV grant approvals enterprise-wide, and monitored ~60 HIV grants enterprise-wide, totaling $9mil, from the CDC, HRSA, NYSDOH, City Council. Here are my HIV-related grants protocols. I managed the Quality Improvement Learning Network, to support continuous improvement efforts; see our Quality Management Plan.
I coordinated quarterly grants reporting to the NYC Department of Health and Mental Hygiene for 17 HIV Clinics. These include enterprise and site-specific HIV testing and linkage, and viral hepatitis patient navigation data.
I built and led a team to develop and operationalize a national Quality Assessment System. We coordinated expertise and drew on the evidence base to create locally adapted survey tools and methods. Together with Cambodia's Ministry of Health we measured process quality of care in 637 health facilities in eight USAID-supported provinces. The system is still in use today to inform the Health Sector Strategic Plan.
I executed an exploratory mission for Aidspan to review Global Fund programming in five Asia Pacific countries. I presented findings from my research and data gathering to senior Ministry of Health officials at the end of each country visit. In Report on the Global Fund Position in Southeast Asia and Western Pacific, commissioned by the Australian Department of Foreign Affairs and Trade (DfAT), the pieces on the Artemisinin Resistance Initiative (RAI), Myanmar, Cambodia, Laos, Vietnam, and Philippines were written by me. This consultancy led to other engagements, particularly analysis pieces written for the Global Fund Observer, an industry newsletter produced by Aidspan. See below:
Writing samples include analyses in an industry newsletter, the Global Fund Observer: Intellectual property and generics competition. Other select technical pieces are below in the next section.
I supported Cambodia's proposal to the Global Fund for HIV/AIDS, Tuberculosis and Malaria (GFATM) by writing the Health Systems Strengthening component, for inclusion to the full proposal. I worked closely with the Ministry of Health, the World Health Organization and other bilateral organizations and civil society groups to ensure an inclusive process.
Technical writing samples:
Creative writing samples:
Other areas of interest: