Google is not your friend if you're pregnant and your hair dryer fries in your hand, briefly electrocuting you. Not to worry, he's fine (says the doc, and yep he's looking like a boy) – I can feel those momentous first movements. It's like tiny little gas bubble rumblings :-\ He's not packing much of a punch yet.
We spent a week in Jom Tien, Thailand, to check out a hospital and the ob-gyn there. Loved the doc. Loved the seafood – here we're at a fisherman's village gorging ourselves on the fresh catch.
About four weeks ago I started looking sufficiently femme fertile where people feel my tummy is public property and they can just reach out and touch the bump. Go away. This trimester's more interesting than the first. The little rambutan's stretching my tummy skin like a drum, he's growing so fast! I'm starting to waddle, I need help turning over in bed, and did you ever notice those tailbone muscles? I didn't til they hurt all day.
Sometimes we just sit back and marvel at this little tenant taking first dibs on my blood and nutrient supply. And I just have to poke at it a little bit hehe. Keith has been very supportive and indulgent, and my go-to griping board :-)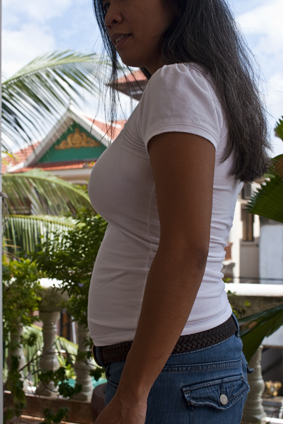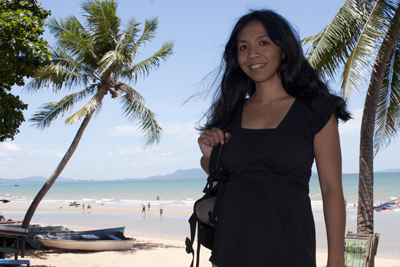 We spent a week in Bangkok too to check out another hospital. Samitivej Hospital is rated a baby-friendly hospital by WHO and UNICEF, meaning significant breastfeeding support with limited or no bottles allowed in the nursery. The hospital doesn't accept for distribution to new mothers any free or low-cost formula.
Do you know there's around a 70% caesarian rate at these hospitals out here?! Parents ask for it. They want an auspicious date and time for the birth. Seems like you'd screw up your kid's astrological alignment doing that. Anyway I LOVED the birthing suites at this one hospital which is where many foreigners who work in SE Asia beeline for to have their baby. They have dim lighting, music, birthing pools, ladders, ropes and swings, aromatherapy oils, diffusers and candles, etc. Maybe I just haven't visited a real hospital in a long time. Sure is the first time I have an intimate engagement with a health care system from the patient side. The docs at this hospital have a 3% caesarian rate [two thumbs up!].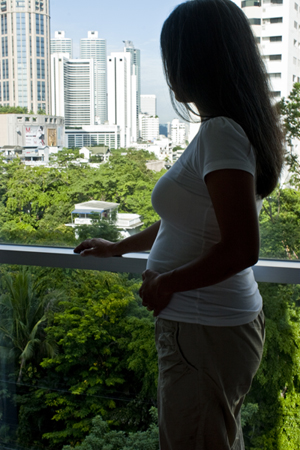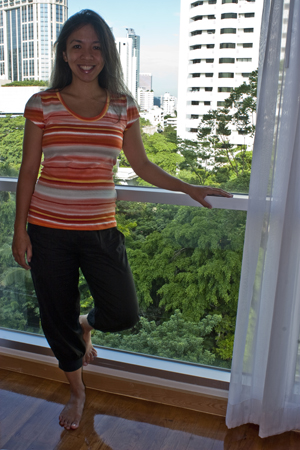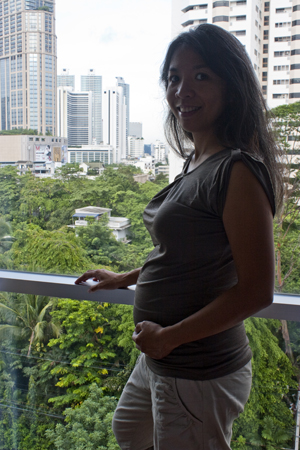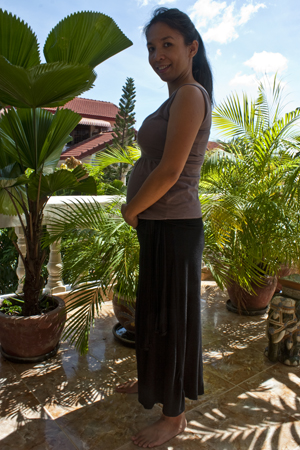 So we're planning for the delivery now. Going the natural birth route was a great idea before I got pregnant. It gets lousy the more you think about how big the sperm donor is, haha, although that supposedly isn't a contributing factor (by size he's already 1 1/2 weeks larger than the average). Diet? Low birthweight is the way to go? Induce early? Sigh. My own concerns, like the sneeze-and-pee side effect of a shattered pelvic floor, are suddenly so much less important now. I guess the joy of parenting is about beating these silly narcissisms out of you.
We're also starting to look at baby things. Poor little guy have the most minimalist parents (maybe we've been working out here too long). I don't understand why it needs a crib, a baby bathtub, baby shampoo, bibs, pacifiers etc…?
But I do notice the recent meltdowns savvied up this niche's purchasing experience. It's feel-good shopping on a gratuitous new scale.
An ergonomically awesome baby carrier created by a good ol' mom-n-pop American shop? Gotta have it. Designer breast pumps and glass bottles, fashioned by professional moms using the latest evidence-based clinical specs, materials and sense? Click – BUY! And check out these adorable little haute couture ensembles for all his potty needs! I can just see the trendy little multi-cultured, fair-labor-, eco-geared, breastmilk-fed bambino being slung about the paddies in organic fitted sherpa (dip-dyed deep sultan!) and matching hand-knit sustainably harvested hemp/bamboo terry blend cover.
The more the buzzwords defy definition the better for you, your baby, the exploited 90% of the world, and the beleaguered planet.
(That narcissistic nimrod will go down fighting.)
So things are progressing quite well for us, thanks for all the emails! Hope everyone's well! We miss you all!