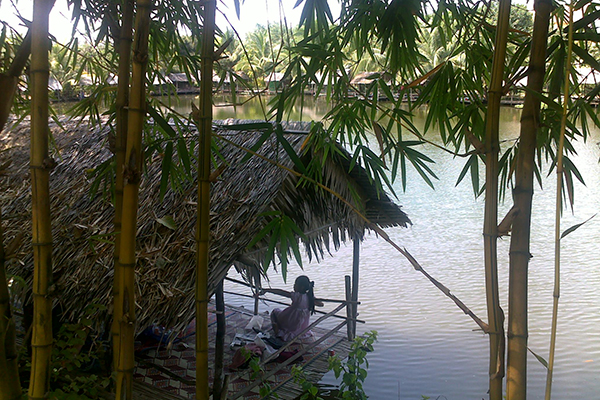 More photos of Soun Soben at Keith Kelly's Flickr

After a simmering hot week cranking out some CFCs in the office, it's time to shift that carbon footprint to another activity. Why not take the family out of the city for a picnic and some fishing?
About 20 minutes outside Phnom Penh (along National Road #1 in Kien Svay district, Kandal) is a stretch of fully stocked ponds, with huts situated along the banks for "picnicking" while you fish. Soun Soben Fishing Lakes is one of these, and it is a popular getaway for Khmers and their families. This 70 hectar property boasts three stocked ponds with 90 fishing huts, several picnic huts and a restaurant. Roaming the grounds freely are peacocks, sambars (a well-fed Sambor deer looking for papaya salad), and other animals used to humans feeding them so they're friendly. It's a great spot for families who want to get away from the city for a lazy day in the shade with rods in hand (although weekends are when the rowdy and loud SUV crowds descend en masse upon them – go on a weekday!). The image above is from Keith Kelly's photostream of Soun Soben.
The grounds are extensive, far enough away from buildings that a good breeze is constant. The tables and thatched-roof huts are sturdy, well-looked after, the grass is cut and maintained, and there are large trees and plenty of shady spots for a nice family picnic. A hut by the sides of the lake will set you back 10,000 riel (US$2.50), unless you buy food and drink.
Thinking of testing your patience against a scaly bluefin? It'll set you back $3 for a fishing rod and a ball of bait which, yummy as a fresh mix of cornstarch and rice powder might sound, is easily stolen by that clever catfish who's avoided the hook in all his years. (Bring your own bait if you're serious about fishing!) Included in this price is that they will clean and cook your catch for you. There are plenty of large fish – you can see them in the water.
Feeding a family of four from their restaurant? A can of beer or a bottle of water is $1, fried vegetables are $2, snails of the large variety are $3.
The typical weekend there will see traffic of around 1000 people from the concrete jungle looking for a quiet and relaxing day in the park. But their clientele reaches 6000 people over the course of a holiday weekend (so avoid it during the New Years!).
(Another popular fishing "resort" is Boeng Chhouk, but there are plenty along this road in Kien Svay district.)