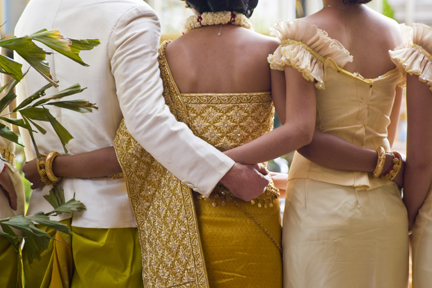 The origins and symbolism of Khmer weddings, according to the Khmer Institute:
Khmer weddings enact Cambodia's greatest legend. The first Khmer prince, Preah Thong, fell in love with the Naga Princess, Neang Neak, while exiled from his homeland. As a marriage gift to the couple, the father of the Naga Princess swallowed part of the ocean, and out of this was formed the land of Cambodia.
The wedding can last anywhere from 3-7 days and is a sensory experience– vibrant colors and an array of royal fabric that's a feast for the eyes, traditional instrumentations revived from the pre-Buddhist and -Hindu past, a culinary spread that will challenge the most intrepid Western palate. It is the most festive of celebrations and the entire community partakes in events.
Every aspect of the wedding is rich with symbolism and traditions:
Hai Goan Gomloh – The groom's processional to the bride's house is accompanied by family and friends, music and gifts. It represents the journey of the Khmer prince and his entourage. The groom then engages the family in a play of negotiation over his gifts to her family, for the bride's hand in marriage.
Sien Doan Taa – A call to all family including the ancestors, to join in the celebration and to welcome each person, because in Khmer culture family are treasured above all else.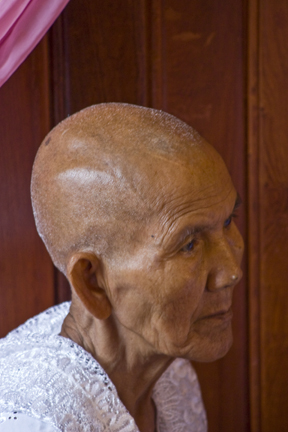 Soat Mun – Blessings from the Monks are bestowed upon the couple.
Gaat Sah – Cleansing Ceremony, where representatives of the deities cleanse the couple spiritually and symbolically to prepare and bless them for their new future together.
Bang Chhat Madaiy – Honoring of the Parents, in which the couple perform symbolic gestures indicating their commitment to their parents.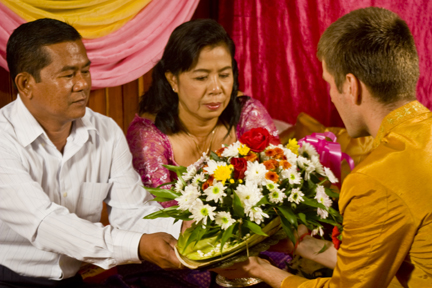 Bongvul Pbopul – Passing of Blessings, in which married couples are asked to surround the bride and groom to impart their blessings.
Sompeas Ptem – Knot Tying Ceremony, in which guests tie knots around the wrists of the bride and groom, symbolising their wishes for the happiness, health and long life to the bride and groom.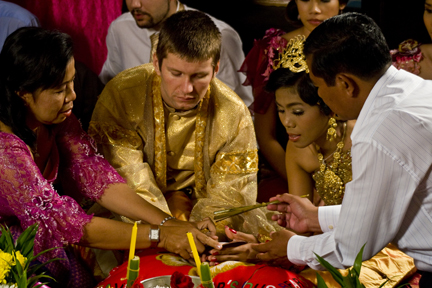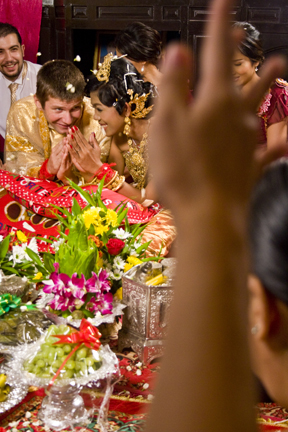 The extraordinary effort and length of weddings (no matter the culture) are draining.. I love this photo below, captured at the end of a long day. Singing and dancing follows the end of the long affair.
This is an updated post from 2009.