Welcome to the May 2014 Carnival of Natural Parenting: Ages and Stages
This post was written for inclusion in the monthly Carnival of Natural Parenting hosted by Hobo Mama and Code Name: Mama. This month our participants have talked about their children's most rewarding and most challenging developmental periods. Please read to the end to find a list of links to the other carnival participants.
***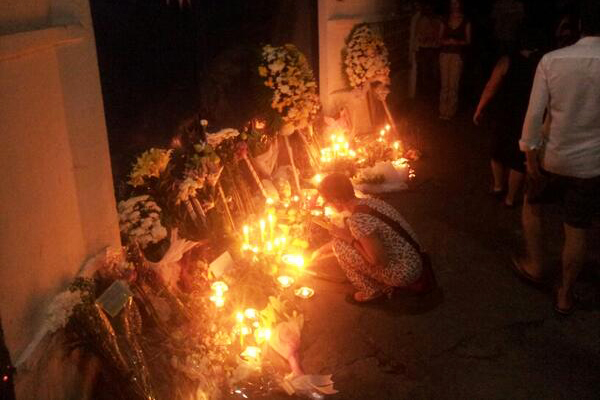 Recently a child who attended our son's playgroup was the victim of a terrible crime. It shook the expatriate community for its brutality. Cambodia's charms draw us all in, and we foreigners choose to be hopeful about the inherent good in people. We forget that it remains a country where impunity reigns, violence lurks beneath the surface, and life can be expendable.
The mother didn't survive the attack. Her toddler, found next to her the following morning, was airlifted to Bangkok but passed away days later. The family was posted to Cambodia less than a year ago.
Words fail for such things. It's especially raw among those who know the weight of a baby in our arms. What profound anguish the father now bears…
At three years old, the notion of death eludes our preschooler, but he fully grasped that something tragic happened to someone he knew.
How do you begin to discuss violence with a young child who has only ever known safety, and the kindness of strangers? Especially when you just want to gather them close and shield them from something like this.
In the immediate period it's hard not to dwell on the crime and focus on the positives.
We brought him with us to the vigil even though it ran late. He picked the flowers that we brought. He saw the family's friends and colleagues gathered in condolence and support. He felt the shared grief and observed the basic kindness and compassion of people.
Everyone gathered in a public space then walked together in silent procession to the family's house. Our son held a candle and some flowers and, once there, he placed them beside the others against the gate. He listened to the poems and eulogies, delivered in different languages. He asked a lot of questions quietly. And we held him close when he let us. By his innocent way he somehow helped poke through the blanket of mourning that weighed over his Papa and I.
As is normal given their resilience (or short attention span?), our son has since bounced back while we adults are left deeply impacted. He has spoken about the incident since, mostly to repeat what he already knew. And we answered as honestly as we could. There will be more questions about violence, especially with so much of it in the media (here or back home), and also as our work continues in countries where violence can be commonplace. And as this time, there won't be an easy way to handle them. For now, we're unconsciously smothering the kids with extra hugs and attention.
***

Visit Hobo Mama and Code Name: Mama to find out how you can participate in the next Carnival of Natural Parenting!
Please take time to read the submissions by the other carnival participants: