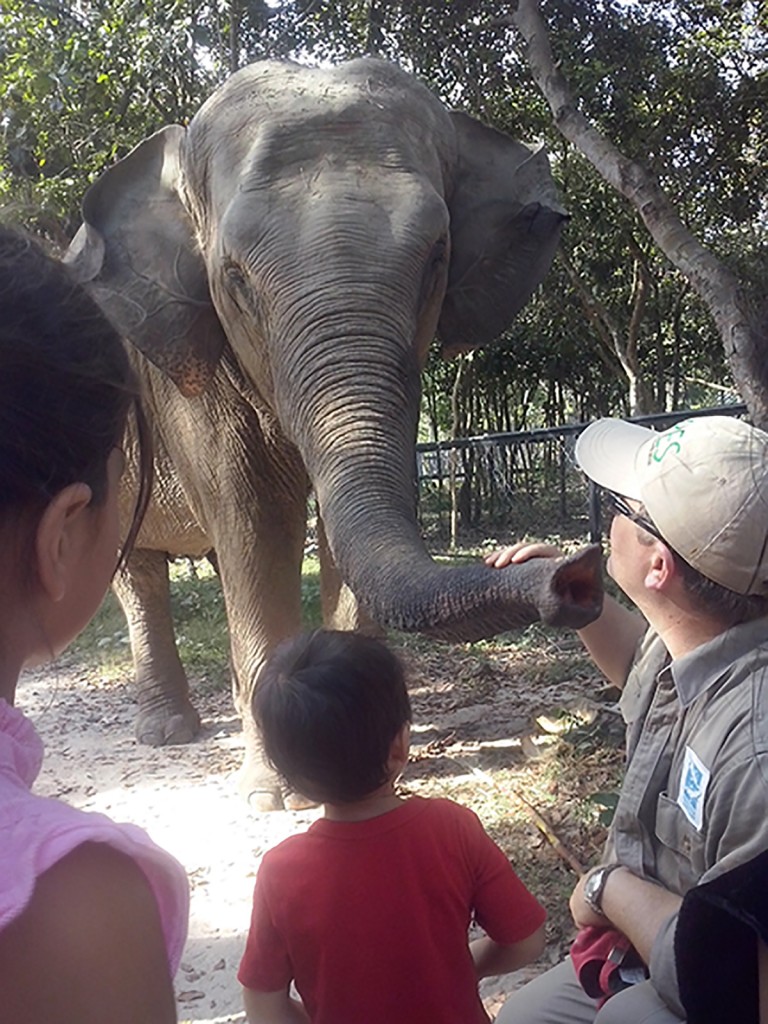 We've been to Phnom Tamao Wildlife Rescue Center several times and I'm always impressed with it. The grounds are large – it's certainly possible to walk from one exhibit to the next, but a vehicle would be useful. They have many exhibits. I still haven't seen all of them. Most animals have a fairly wide area to roam (they aren't confined to small concrete cages as I expected). They're rescued from accidents or illegal wildlife trade, and rehabilitated. Those that can't be released back to the wild stay on the grounds. The center is staffed by dedicated conservationists, and they're routinely visited by experts in specific species.
Our little boy and his friend celebrated their birthday together, so we took them to the Rescue Center with their closest friends. Our friend who's Cambodia's very own 'Steve Irwin Crocodile Hunter' organized a fantastic day – we brought 20kg of meat for the crocodiles and tigers so we can see them up close. We ran into Lucky the elephant who was taking a stroll with her handler, so we fed her some of her favorite treats, coconuts and sugar cane. These huge creatures would crush the coconuts under their foot like it was an egg!
We also stopped by the breeding pen for Siamese crocodiles that continually releases juveniles back to the wild. Siamese are rare, as most of them have been hunted or are bred with other species of crocodiles to make better handbags. (Adam is a conservationist and as a crocodile expert made it an informative outing for all of us.)
This is the first time the kids ever saw a piñata too, so that was quite entertaining! They're pretty lucky they have parents who'll spend quite a bit of time making piñatas for them, one a stegosaurus and the other a chicken.