Want to take your pet out of Cambodia with you? Airline rules are changing in Phnom Penh. Small pets (<5kg) can still be stowed in the cabin with you. Pets over 5kg must go in the cargo, but several carriers have recently announced that aircraft flying out of Phnom Penh are too small for them to safely transport live animals in the cargo.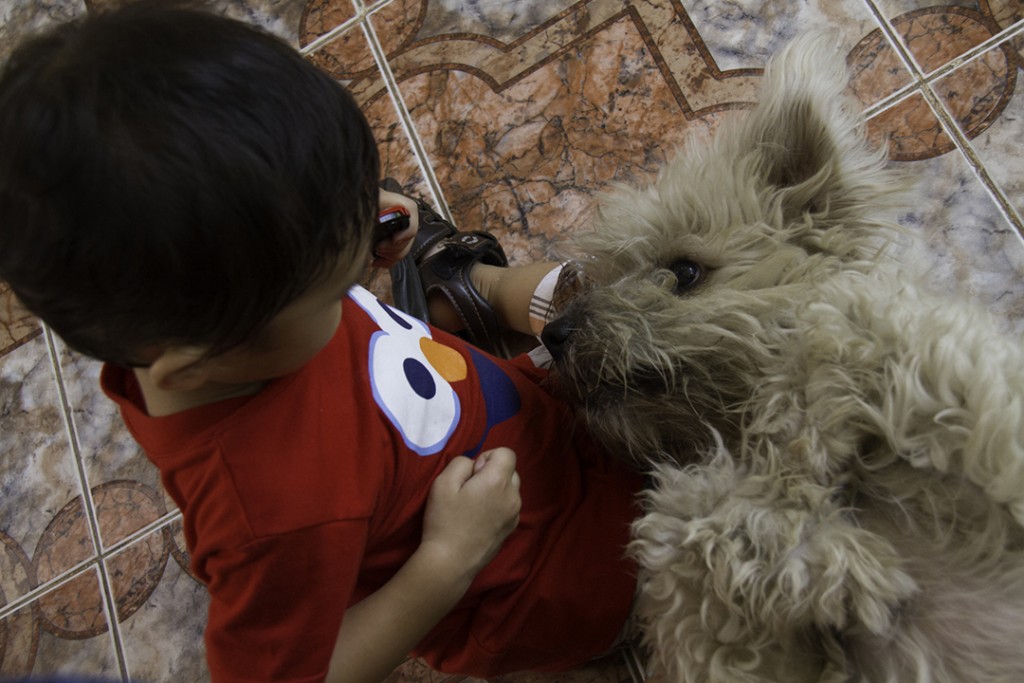 The expat community was incredibly helpful when I posted a query on several forums for any experience in getting pets out of Phnom Penh, and compiled here the options (as of 2015):
.
I. Go overland Phnom Penh to Bangkok. Bus companies like Virak-Buntham does trips Phnom Penh-to-Bangkok via Koh Kong, without making passengers transfer to another bus at the Thai side of the border. They're about $28/seat on a limousine bus for 11 people max, with AC. They'd require that you book a seat for your dog, but you have to gather your pet's documents to get into Thailand – either do it yourself via the instructions below (III), or ask a vet or pet shop to facilitate (II). You can book seats on this bus from Bright Lotus Guesthouse, which is located on the corner of St 178 and Sothearos Blvd. They leave at 7am, and the trip is 10-12 hours.
.
II. Enlist the help of a Khmer vet or pet shop. I imagine other pet shops or kennels might also do this if asked..? I initially requested suggestions from Agrovet, but Arnaud there didn't indicate that his staff can help with this, and I didn't pursue beyond that.
Happy Dog on Kampuchea Krom can facilitate with all aspects of getting a dog to your connecting flight in other cities. Sok Chhay Ngov (manager) has taken many dogs abroad since the airlines' tighter regulations took effect. Here are examples of things he's done for some friends, or quoted for me, below. Sok Chhay 017321123 / 012321333
Including the costs for Sok Chhay to take the dog personally including securing all documentations, eg the medical and health clearance for your home country and animal control paperwork, the quote to take a dog overland to Bangkok is around $350. Once in Bangkok he will check the dog in to your connecting flight (a larger aircraft will take the dog in the hold).

If my whole family travels overland in a private van to Bangkok (with the dog), so that we all catch the Korea Air flight to NY together, then the quote is around $380.

To take the dog to Manila by air (and board him on a connecting flight onwards to NY), the quote is around $1000.
III. Fly via Bangkok Air or Thai Airways out of Phnom Penh. As of this writing, all carriers will still take pets <5kg in the cabin. But only Bangkok Air and Thai Airways will now take pets up to <60kg (including the kennel) in the cargo. (Over 60kg and you're out of luck). If these carriers are code share partners with your connecting flight home, no problem – there is just one fee for the pet to travel and no additional paperwork on your connecting flight. If these carriers are not, then you can't just connect in Bangkok. You have to go through customs and check in again, plus:
You pay twice to have your dog fly in the hold (for example, $7 per kg of combined dog and kennel via Bangkok Air from Phnom Penh to Bangkok, plus $200 for Korean Air for the connecting flights to NYC)
Transit papers will be required for the dog in Bangkok before the onward flight. They are fairly easy to get and only cost 50baht (~$1.75). Email qsap_bkk@dld.go.th for a transit permit through Bangkok and they will send you the form to fill out. You also need (quoting them directly):

A copy of passport  or a copy of identification card an importer
Address in your country
Detail of  your animal (such as type of breed, sex, etc.)
History of vaccination ( A copy of  Vaccination record)
Picture of  your animal
Description of your flight

Name of port of exit from your country

Email these directly to Suvarnabhumi  Airport Animal Quarantine Station within 10 days prior transit to Thailand. An officer at the airport  will issue the transit permit for your animal about  a few days after document approved, to your by email. (Office open on Mon-Fri 08.30 am.-04.30 pm. my local time Tel: + 66 2 1340731)
Things to keep in mind:
Book your dog with your ticket, either with an airline agent or through a booking agent
Airlines limit the number of pets they carry on any given flight
You pay for your pet at check-in as they're handled as oversized extra luggage
Try to arrive 3-4 hours before the scheduled departure of your flight
In some countries eg the US, you can't just connect as you want to anywhere else with a dog Most/all US airlines have restrictions on times (often not at all in the summer) and weather conditions under which they will/will not transport pets in the hold. If you need to connect in the US with an American carrier, check their pet policies before you book your international flight
Kennel specifications: Agrovet and Happy Dog are two places that sell airline-approved or airline-specific crates, though you can get them in any shop for cheaper still if you're sure of what you're looking for

Vets that can provide documentation required to bring pets abroad: Dr. Lim Pak (Khmer vet on street 174 by Walkabout bar) and Arnaud at Agrovet are the only two who can sign off on all the paperwork you need. But double check all info you get from them because there are many changes; some people have reported stranded pets due to incorrect or outdated info regarding vaccinations and bloodwork clearances.
Tips for prepping your pet for air travel:
Crate train your pet so that the crate is his safe place.
Put in a familiar blanket (with his and your smells on it) in the crate (which will also help with spilled water).
Don't feed him 24 hours before departure.
Give him plenty of time to run and poo on the day of the departure.
Freeze ice in the crate bowls so it doesn't immediately spill when they move him in his crate.
When you refill in Bangkok, use ice cubes which any of the restaurants will give you for free.
Don't give him sedatives – if he reacts adversely to them, nobody will notice since he will be alone. Pets will take their cues from you: act calm and it will reassure them.
An expat in Cambodia also posted his tips on the website PPAWS (Phnom Penh Animal Welfare Society). Just bear in mind as of this year, Korean Air no longer accepts pets larger than 5kg on flights originating in Pochentong (PNH).