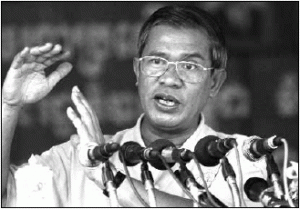 There were so few opportunities to catch a cnn segment in the past three weeks in the provinces, yet every time I did it was running the boy-trapped-in-the-hot-air-balloon farce. I guess there are so few newsworthy events in the world (shoot me now- and no, i will not pingback to that dumbass non-story OR to cnn).
And then there's the local buzz. Just this once, Hun Sen actually amuses me:
Our very own PM announced at the ASEAN gathering in Hua Hin, Thailand, that the extradition treaty will not apply to Thaksin should he visit Cambodia. Apparently this displeases Thailand.
Remember the offhand jab at Hun Sen by Thailand's Foreign Minister Kasit Piromya earlier this year?
And the regular nationalist ploys by royalist yellow shirt PAD at the Preah Vihear border temple, most recently a few weeks ago which diverted attention from the demonstrations in Bangkok?
Why does Thailand insist on needling Cambodia, no matter how insignificant they may regard this country? Seems a bit short-sighted to antagonise neighbor governments when you're facing impending instability, isn't it?