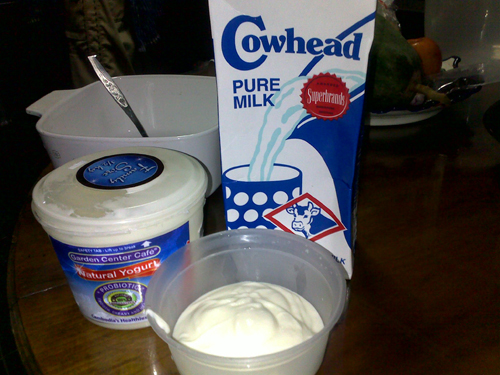 No thermometer, no measuring cups, no heating pads, no double-boiling appartus! Of course, we're in the tropics so it's easier to do here than if we were back home in the temperate zone.
I love plain yogurt but for a long time the most common yogurt in Phnom Penh were the sweet flavored ones from Thailand and Vietnam. Thankfully our friend and neighbor Kishore from Bangladesh taught me how. It's so simple, with everything just eyeballed and estimated.
Easy plain yogurt recipe:
~1/2 cup plain yogurt as a starter – I use the Garden Center Cafe's probiotic yogurt. It's a natural probiotic yogurt with active cultures. I hear Stoneyfield is a good starter. You can use the yogurt you make as starter in future batches.
~1 box of milk – The 1 liter box milk is what you usually find here, although organic and natural labels are starting to make appearances at the natural food grocery stores.
Directions:
Heat the milk on the stove, med-high, until small bubbles start to form and it starts frothing. I don't stir it, so that film forms on top. See the pic below. Turn the burner off.
Let it sit and cool until the milk is about lukewarm, ~20 minutes. Again that film is on top, hardening. I don't touch it.
When the milk is lukewarm, add about 1/2 or 3/4 cup of your starter yogurt. Mix it all gently in a glass bowl.
Cover the bowl and place in a warm spot, like in an oven which you aren't going to be using, where it will be not be bumped, moved or otherwise disturbed for around 12 hours.
Let sit overnight.
When it has reached a solid state, it is ready. Place in containers and stick them in the refrigerator.