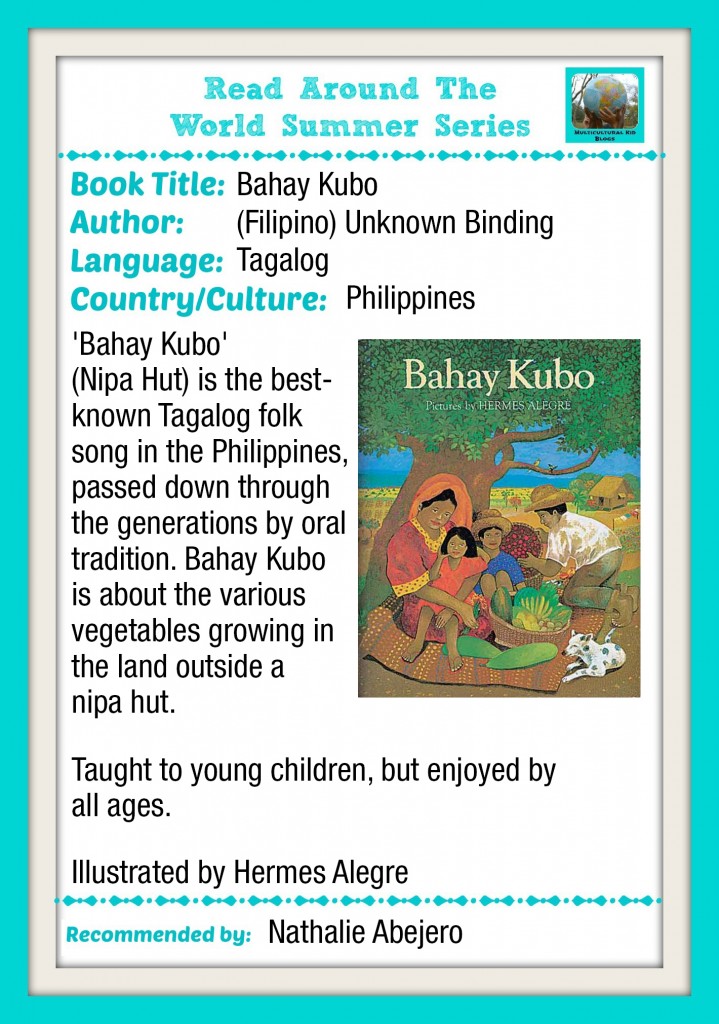 This folk song is a catchy tune (in tagalog), and my son picked up the lyrics in a very short time. He was 2 years old then and spoke no Tagalog. It's a good introduction to the language and culture of the Philippines.
Anak Books has a great description of the book, so I copy it below in its entirety from their website. Please visit them because it also features a lot of great books in both Tagalog and bilingual Tagalog/English.
The classic Tagalog folktale 'Bahay Kubo' is lovingly told and beautifully illustrated through classic Filipino vignettes. This book includes lyrics and score. "Bahay Kubo" is perhaps the best-known and best-loved folk song in the Philipines. Its composer is unknown. Its Tagalog lyrics have been passed down through the generations by way of the oral tradition. The words and music which appear in this book represent but one of the many versions of this folk song. The song's diatonic melody and walts-like rhythm suggest European influences. The lyrics include plants which are not indegenous to the Philippines, such as peanuts (mani), eggplant (talong), and mustard (mustasa). These foreign elements could mean that the folk song originated or evolved during colonial times. Bahay Kubo tells of a family living in a small nipa hut, surrounded by a garden filled with vegetables. It is a song that celebrates the bounty of our land.
This post is for the Read Around the World Summer Reading Series from Multicultural Kid Blogs!  Now through August, bloggers from all over the world will share their recommendations of great multicultural books for the entire family!  For more details and the full schedule, visit the series main page.  You can also follow along on our Summer Reading Pinterest Board!