Welcome to the April 2014 Carnival of Natural Parenting: Family Pastimes

This post was written for inclusion in the monthly Carnival of Natural Parenting hosted by Code Name: Mama and Hobo Mama. This month our participants have shared stories and wisdom about family pastimes.

Our preschooler tried a bite of vindaloo. He's trying to like it, but his face blanched and he tried to wipe the heat off his tongue with a napkin. I slid a glass of mango lassi his way. Eating out remains a treat we indulge in, and we regularly bring the kids. It entails lots of advance notice and build-up (reward system). Our older one loves the novelty of a restaurant meal so we use that. Our agreement? He can join us on these special nights out if he will try every dish that comes to the table. It's ok to dislike something, but only after trying it. (Luckily we work and live in a region – outside the West! – whose cultures are extremely kid-friendly; when they were babies waitstaff even held them so we could eat, and gave them back with the bill!)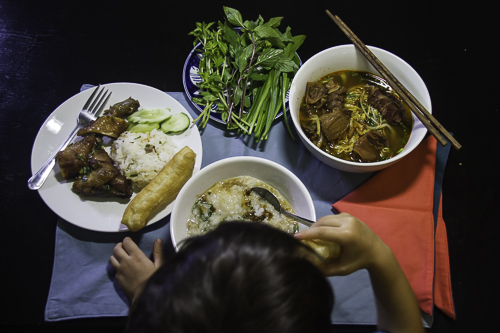 Photo: Khmer breakfast foods (L-R) chicken rice, rice porridge and beef stew with noodle. The plate of greens is for the stew.

Before kids, we were perpetually exploring – touring our city, traveling, trying different cuisines and experimenting with new recipes and pairings.
But those days of discovery have downshifted, because predictability is key to keeping the peace. Itchy feet are grounded, spontaneity's swapped for routines, and flavors are kicked down a notch. Further, one child is a bit spirited, and with the territory comes high sensitivity to change. There are some slow years ahead.
Kids adopt the level of open-mindedness and worldview they're exposed to by environment and hands-on parenting. But what else can we do to cultivate curiosity for the unfamiliar and nurture a passion for travel, especially at very young ages?
For us, food's the ticket for cultural exposure. It started with transitioning to solids. The standard advice wasn't easy. Making and hauling jars of pureed food around Cambodia in this tropical heat took too much effort. So the kids went from breast milk to gumming chunks of fruit and vegetable, whatever was in season, like the local kids do. They were exposed to a variety of unusual produce this way, and their palate for freshness was established early. It's a start.
But developing that nomadic palate?
Thankfully, one of the kids is an indiscriminate nibbler and game to try anything she sees her parents eating. But her sibling? He loves carbs, with everything scraped clean off – sauces, toppings, and spreads. So he trained us well in sneaking things into these staples for subtle flavor – turmeric, melted brie, pureed eggplant. Sometimes it works.
We make an effort to bring the little boy on market or grocery shopping trips. He chooses some vegetables and then he's enlisted in meal prep. He gets simple tasks like cutting the vegetables. It's slow, and it gets messy, but because they're involved in the process, both kids chow on the raw ingredients. And since they "help" make it they're more inclined to try the finished dish even if it's "strange". It's been effective.
There are also big successes with eating out. The little boy was suspicious of the Moroccan harira and tagine, so he filled up on couscous and kefta. He gave the traditional Mexican dish chilaquiles a pass, but devoured the freshly-made tortillas with salsa and drank horchata in between bites of tres leches. He likes Filipino adobo and kare-kare, and Singapore's trademark pepper crab. We've even gotten him to try if not appreciate ugali, mohinga and durian. And when there's good wine or beer he gets to dip a finger in it.
These are small steps, and immature palates seem to be growing adaptable. The great thing about food is that it's a foot in the door to broader exploration as they grow. Food is a cultural expression, and a great topic for the dinner table.
It helps to have toy airplanes, maps and globes around. It isn't much effort to chat up our meal's geography, especially for their level of understanding. Like why stews (like borscht) or preserved meats (like lutefisk) are popular in cold climates. And why sashimi is common in an island country. We talk about fiery Thai dishes, and how its signature chili originated on the other side of the planet in the Americas.
These discussions seem sophisticated, but there's context for countries that family and friends are from, or that they've been to, or cultures they read about in their books. Even at such a young age, the dots connect – including ones we hadn't thought of. We're frequently reminded to stop treating our precocious preschooler like a kid. So recently we've embarked on a project with him to write and publish a dual-language picture book of his favorite Khmer foods, for his little sister. We'll see how this project goes…
It's a struggle to fit travel in these days. Food exposure pushes their limits and fosters curiosity and a sense of adventure. Someday we'll hit the road again. But for now the journey begins with modest steps. Besides, a good relationship with food ultimately has lifetime benefits aside from facilitating cultural exposure – for everyone in the family.
…
On this theme of food as a cultural experience for kids – check out this great post and carnival blogging series, Around the World with Pancakes: Apfelpfannkuchen (German Apple Pancakes: To Bake or Not to Bake). The blog carnival is Around the World in 12 Dishes.
And food-themed books that we've enjoyed (links to Goodreads reviews):

Cora Cooks Pancit
How to Make an Apple Pie and See the World
..

Visit Code Name: Mama and Hobo Mama to find out how you can participate in the next Carnival of Natural Parenting!
Please take time to read the submissions by the other carnival participants: