I've tweeted this iced coffee before, and I still love it today. It's dark, strong and rich, perfect for a Monday morning start to the week after a tiring weekend with a sick little 11 month old :-(
She's one of the vendors outside on the street, just outside a small food shop, on St 67 south of Russian Blvd / St 110 / Preah Angduong. This area, especially on St 114 / Kramuonsar between St 67 and St 51, is densely packed with food shops serving a gamut of Khmer and Vietnamese foods. Psar Thmei (New Market) is a block away, where buses leave for destinations all over the Kingdom, so it caters to the masses of travelers passing through. See a map of Phnom Penh here.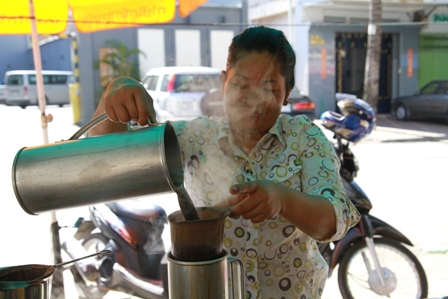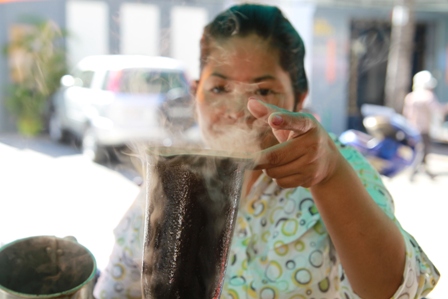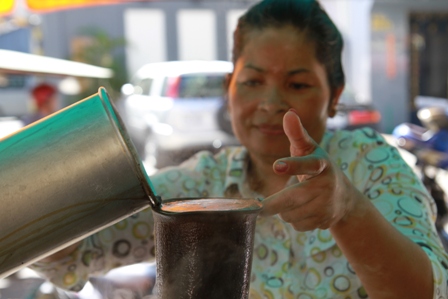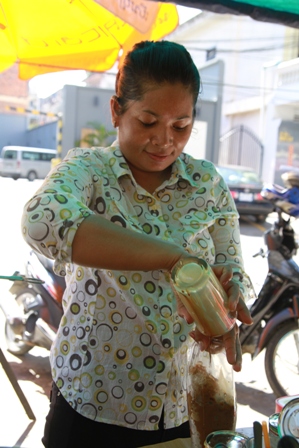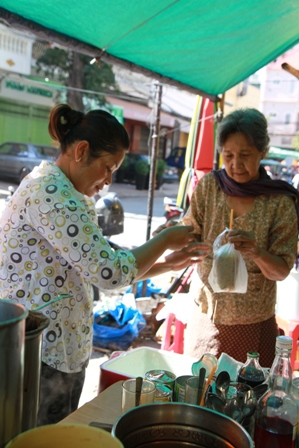 The coffee grounds are steeped in boiling water using a muslin bag shaped like a filter. Because the coffee is strong, the grounds in the bag can be re-used. Photos above are courtesy of Doualy Xaykaothao.
… and ok, it's one of my two favorite iced coffee vendors in Phnom Penh. Below is my other favorite place to get an iced coffee, Rising Sun Pub, on St 178 between Sisowath Quay and Sothearos. They use the Vietnamese cold-brew method using a mini drip brewer, pouring the water through the grounds about three times to get that nice strong flavor. mmmm…!