Where Thais love the calorific richness of coconut milk bases and thick sauces, Lao cuisine tends to be less demanding without compromising taste. A coarse mix of freshly prepared ingredients creates the signature raw textures and crisp flavours. It combines the bitterness of roots with citrus, the sour tang of tamarind and the pungent saltiness of fermented fish or shrimp.
Sample the haute royal cuisine of the north with soups like khái pâen (river moss) and áw lám (a dense vegetable mix). And don't miss the assorted pumpkin dishes or grilled fish served with sticky rice. More typical dishes include làap (lime-cured minced meat and herbs), mak pen (spicy grilled meat patties), thot phakop (fish beignets) and pak goot (spirally green fern). A concoction of chilli sauce and dried buffalo skin (jaew bong) complements the meal.
The distinctive flavours of Laos are a culinary treat worth exploring. It is an easy inquiry at guesthouses or at the open-air kitchens of riverside restaurants to get an informal cooking tutorial. For proper lessons including a trip to the market to pick up ingredients–or for the truly inspired, to fish in the local style or pick vegetables at the local farm– Tamarind or Tum Tum Cheng will cater to the serious foodie.
Further afield, the inquisitive palate won't be disappointed. Chun pradek (fermented fish) and kaeng paa khai mot (ant egg and fish soup), harkens memories of the much-loved prahok and ongkrong in Cambodia. Food for the more daring soul include frog mok (minced meat and herbs steamed in banana leaves) and nok aen dawng (fermented swallows) served fried or in a soup. There is also a special fondness for larvae, steamed in a large bamboo tube.
These are washed down with lao hai (a communal jar wine of fermented herbs), sipped through thin bamboo reeds, or a lao-lao infusion of hét wâi (rice whiskey with wild matsutake mushrooms).
Viradesa Guesthouse and Restaurant
2nd lane (Ban Wat That), on the river
A Mekong riverside sunset under the foliage awning is a must. Local fares such as pork laap or fish koy are excellent. Try a Beer Lao Dark or a shot of lao-lao
Talaat Phousi, the main market
Try a bowl of khao soi (a very good, very tasty noodle soup) for breakfast while watching morning market activities.
Published in AsiaLIFE Phnom Penh, January 2008
More photos from Northern Laos by Keith Kelly

Fish Koy at Viradesa Restaurant on the River, similar to Laap but with fish instead of meat.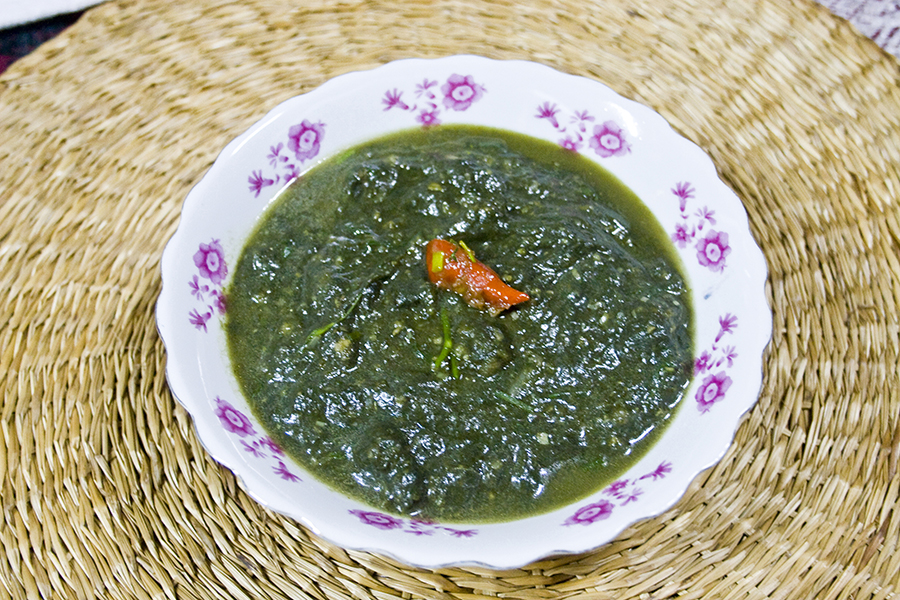 This freshly cooked seaweed (khai paen) dish is delicious.

Street vendors sell bamboo steamed sticky rice, at a pay stop on the way to one of the Plain of Jars sites.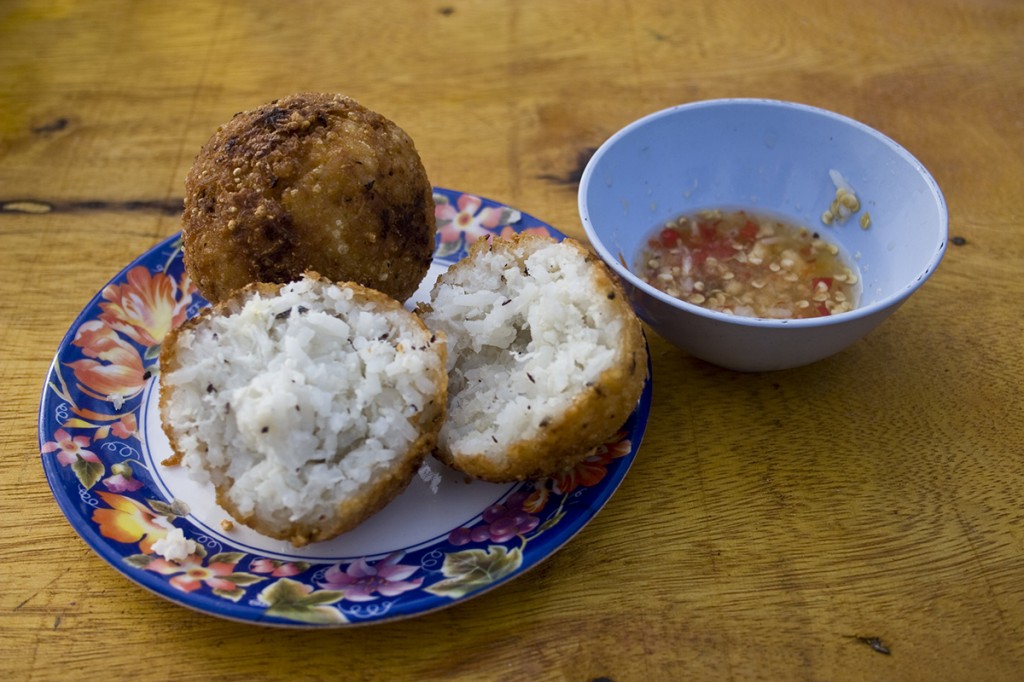 Tasty street food, naim, sold on the riverfront in Vientiane, fried balls of coconut, rice, fish.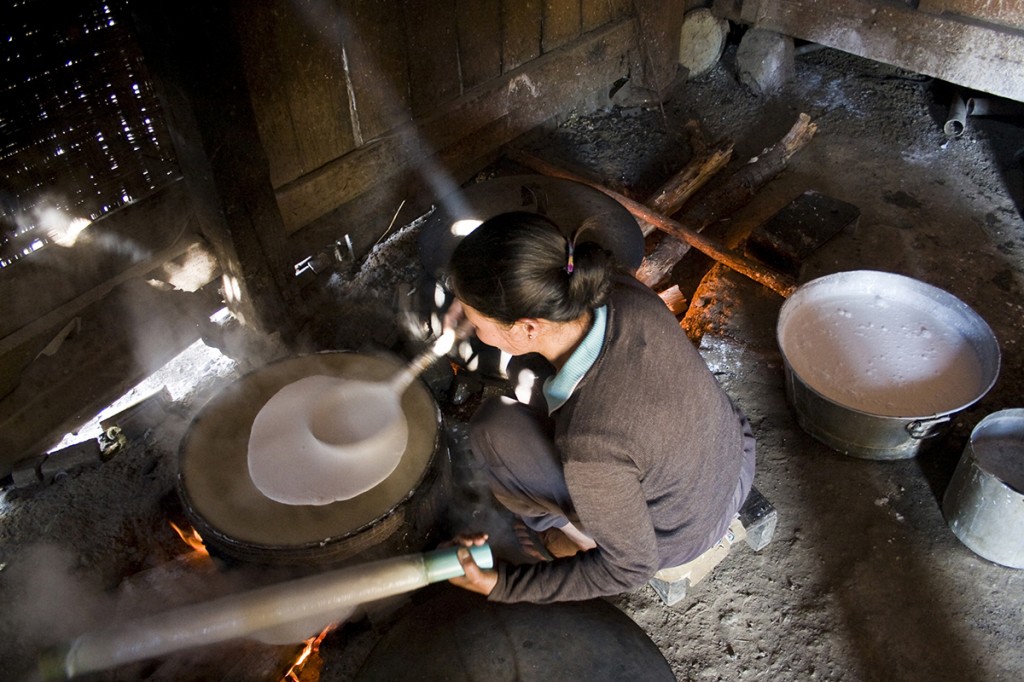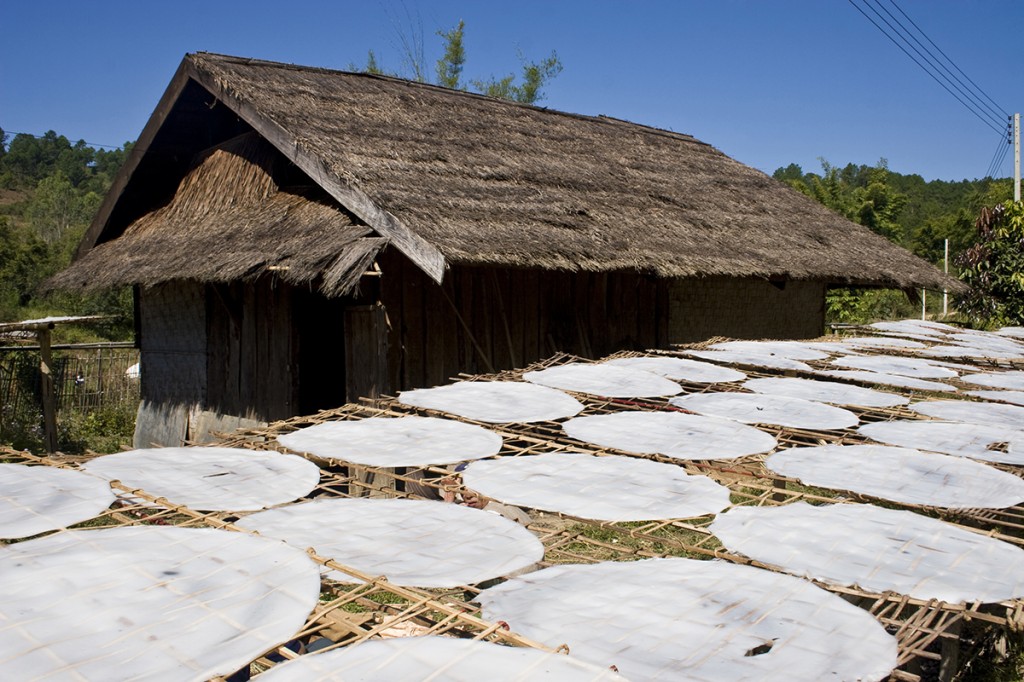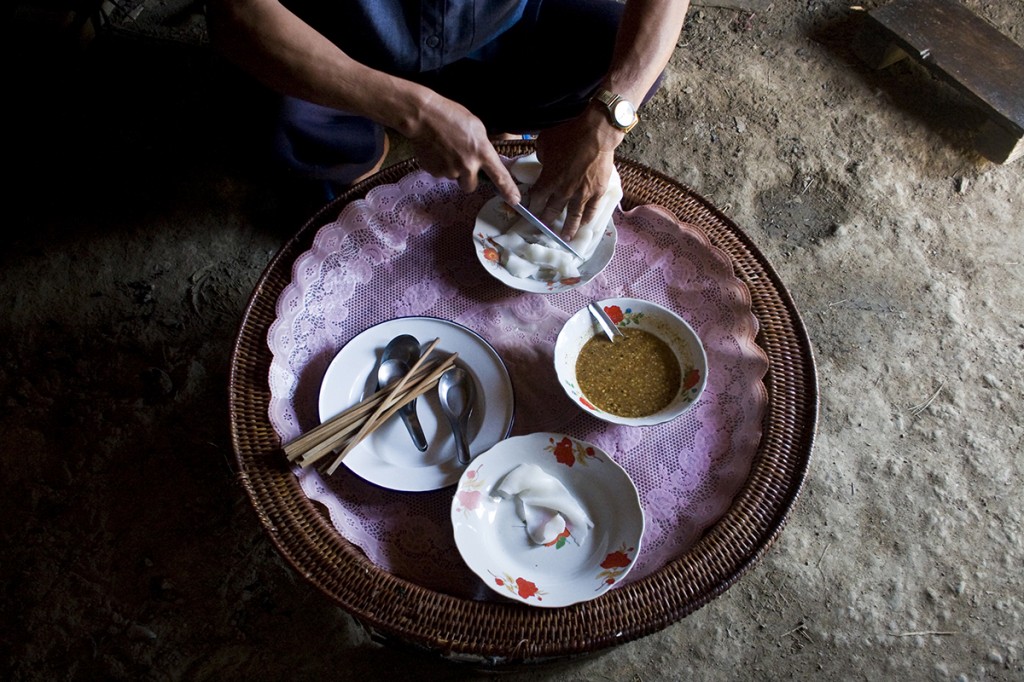 Rice noodles start off as a watery rice flour mixture boiled at dawn, rolled out to dry in the sun for the day, then cut into the thin noodles in the evening.
More photos from Northern Laos by Keith Kelly
Other posts on Laos:
.