Thanks to @yatpundit for the reminder, since I miss it every year if I'm not in New Orleans!
Bangkok's malls are taking down their Christmas shopping scenes to put up the next shopping holiday marketing props [Valentine's Day – sticks finger down throat]]. But the holiday festivities are just shifting – Mardi Gras season begins today! Man I miss King Cake – we'll have to get ourselves over to Bourbon St off Sukhumvit Soi 22 and see if they have some!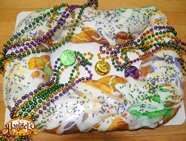 Happy Carnival! Here's a little background from NOLA History: Reveling on Twelfth Night:
Christians all over the world celebrate on the Sixth of January. While some parts of the Christian world may differ on dates, January 6th is usually recognized as the Feast of the Epiphany, the day that the Magi, or Three Wise Men, visited the Christ Child. In most of Christendom, Epiphany marks the end of the holiday season. The Christmas tree is taken down, the decorations stored away for another year, and life goes on.
Except in New Orleans.

Epiphany celebrations are also known as "Twelfth Night" celebrations because January 6th is the "Twelfth Day of Christmas." There is some confusion over whether Christmas Day is the "first day of Christmas" or Boxing Day (December 26th) is the "first day." Another variation in the celebrations is whether or not Twelfth Night happens on the night of January 5th or 6th. This confusion results from the date convention of Medieval Europe where a "day" begins on the night before.

As the sun sets on January 6th and the rest of the world formally gets back to normal life, New Orleanians merely shift the focus of our celebrating. The Christmas season is over, and the Carnival season begins.

A bit of explanation is in order here: One has to keep in mind that there was hardly any celebrating done before Christmas before our now-very-secular society. The four weeks prior to Christmas are the liturgical season of Advent, a time of fasting and penance to prepare for Christ's birth. With the season of Advent largely ignored in modern society, pre-Christmas celebrations lead to post-Christmas and New Year's parties, and that turns into Carnival time.