Published in AsiaLIFE Phnom Penh, January 2008
More photos from Northern Laos by K Kelly
Because the world has largely ignored this small country, its way of life, and religious and traditional structures have been preserved, creating an old-world charm. With an inviting reception all around, and life carrying on unhurriedly, Laos is sure to be a memorable destination.
With growing interest in the unchartered northern provinces, especially the protected and just recently accessible areas of Luang Nam Tha and Phongsali, exploring a wider range of destinations is now possible through a responsive and well-coordinated tourism sector. Sleep in a tree-house with the gibbons and zipline to breakfast. Or go on a wildlife trek to sight any of the rare species still living in sustainable existence in one of many protected areas.
Activities for getting to and exploring destinations are also increasing, especially for the nature enthusiasts – such as kayaking, mountain climbing and jungle hiking, spelunking, river cruising. The nationally-sanctioned Green Discovery assures optimal match of visitor with location, paying special attention to leaving as small a footprint as possible.

Charms of an Old Capital
Closer to the beaten track it is still possible to capture the essence of Laos. The old capital Luang Prabang boasts a therapeutic pace, insured against the havoc of progress by its World Heritage branding. It is the perfect city for renting a bike (US$1/day). Markets selling precious stones, textiles and handicrafts intersperse with modern cafés, restaurants and bars. Laos has more than a hundred tribal groups, their traditions artfully exhibited in the newly opened Ethnology museum. Home to numerous wats and architectural treasures from centuries gone by, the city is nestled picturesquely at the confluence of the Mekong and Nam Khang Rivers. A one-hour Laos-style massage, which focuses on pressure points, costs US$5 at the spas, and the shopping strip quadruples in size when the night bazaars open.
Luang Prabang's central location affords easy access to a robust sampling of the north's rough country, histories and cultures. Experience a mahout's working day–unemployed elephants formerly logging the forests now live in retirement sanctuaries nearby. The elephant camp at Xieng Lom will gladly help you assist them.
A journey down the Mekong to Pak Ou Caves is an experience not just for the caves carved into limestone mountains and filled with Buddha statues. Textile, handicraft, and papermaking villages along the way are usually part of the package when arranging transport. Visitors can watch weavers at the loom or peruse finished products at centrally located shops. Their crafts are often a good bargain compared with those in Luang Prabang.
Tribal Textiles Traditions
Textile production is high in Laos, compared to Thailand and Cambodia where the skill is slowly lost to modern pursuits. While pieces with repeating patterns can be mass-produced, those made by hand are beautifully unique. They record the distinct patterning, colours and techniques of the weaver's tribal affiliation.
There are over a dozen weaving styles and designs, but patterns most recognisable to the inexpert eye comprise figures of the mythical Naga, phoenix, dragons, elephants, and birds in diamond repetitions. To complete a large piece (around 3m x 0.8m), a weaver labours for a dedicated seven days a week for four weeks. These highly-crafted pieces can fetch prices starting at US$150, depending on the intricacy, even higher in Luang Prabang and much higher from abroad or on the internet.
Remnants of War
Not as popular on the tourist trail is the northeastern province of Xieng Khouang on the Vietnamese border where the war history is evident. A striking view of forested mountains and karst formations greets visitors as the plane descends from the clouds. Sadly, scars left by American bombing campaigns pockmark the landscape. It is estimated that more bombs were dropped in Laos than in Germany and Japan combined during World War II.
As in Cambodia, villagers are forced to put a positive spin on it – "The Americans gave us fish ponds." War relics are used as stilts for the raised dwellings of the H'mong, as fencings and posts, for grill pits and planters. Cluster bomb units hold candles in hotels and restaurants. One woman in Ban Na Pia makes 700 spoons a day by melting down mortar shells that her husband still finds in the fields. She sells them to visitors who watch her work, for 5,000 kip each. A visit to the scrap metal yards reveals the sheer amount of shell casings and bomb fragments traded in daily. Highly risky, finding these munitions is more lucrative than farming, and many do this full-time.
Plain of Jars
In the same province is the archaeological mystery of the Plain of Jars. Believed to be the third and biggest of five sacred sites – the others are in India, China, Malaysia, and Indonesia – bearing technical similarity to each other, they were left by a nomadic group whose ethnic origins are still unknown.
The ones in Laos are carbon-dated to 2,000 BC and documented in China's manuscripts of the period. They're also the largest, with one weighing over six tonnes. Remains found alternately inside or underneath the jars imply that after a first burial inside the jar, the bones were later removed and placed in the ground for a second burial. The jars were then filled with the departed's earthly goods, to ease transition to the nether world.
Three sites have the greatest concentration of jars. The third and most scenic is accessed via a panoramic 20-minute trek through rice fields, farms and pastures. Patience pays off in the stunning views as well as the opportunity to interact with hill-tribe villagers or glimpse into their lives.

Village-hopping
Xieng Khouang is packed with possibilities for exploring traditional livelihoods. Village leaders allow foreigners a guided tour into their communities, in exchange for regular compensation from the government to keep things tidy. Tour guides are often eager to bring foreigners to their village and to show the ways of life of the various hill-tribes.
If visiting the weaving village of (Ban) Xsang be ready for a lively show of Khmou hospitality. Lao lao and fruit are handed round to buy time for neighbours to drop in with their wares. As many as fifteen weavers cram into the wooden hut with bags of their best textiles, ready to compete for potential purchases. Colourful patterns are tossed on the mat for perusal. Soon the pile is nearly a metre high and the weavers are yelling at one another over whose work is better. With lots of laughter and plenty of lao lao, it's impossible not to enjoy Laos hospitality.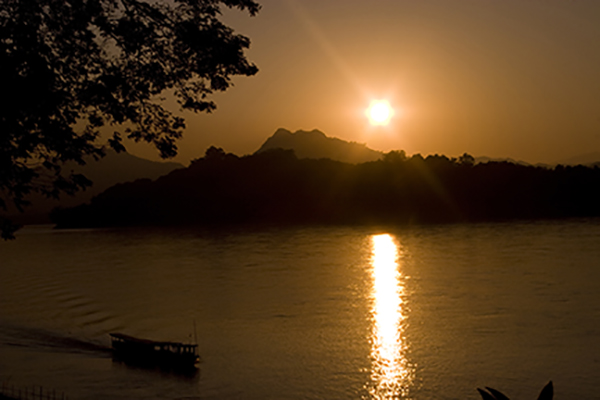 A Luang Prabang sunset on the Mekong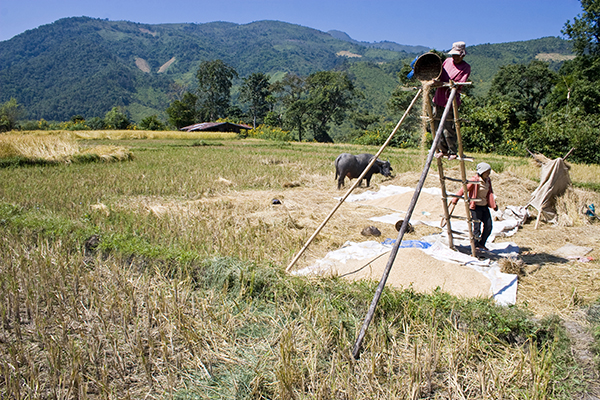 Chaffing the rice after harvest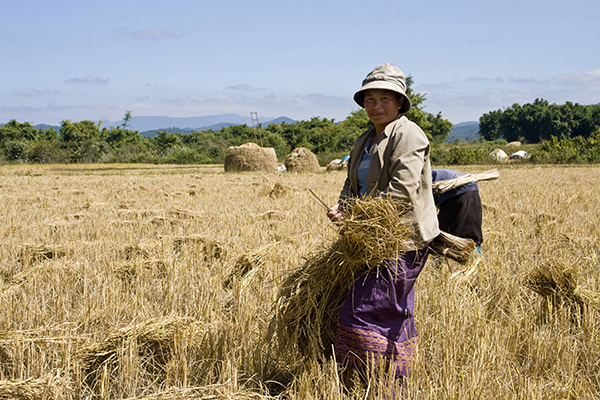 Farmer taking a break to humor the tourists :-)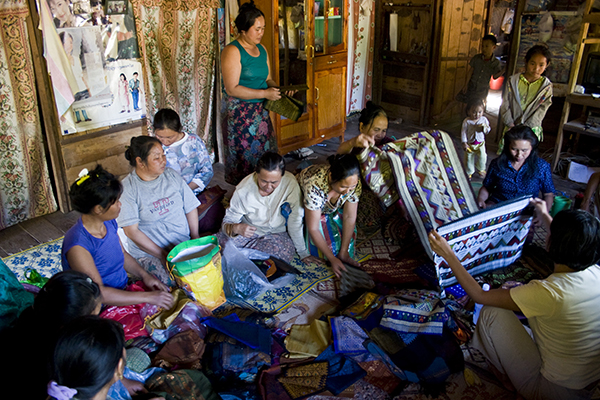 Textile weavers displaying their best works for visitors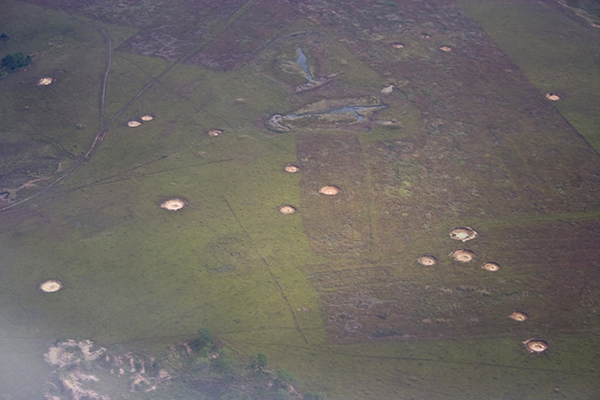 The landscape is still scarred by bombs dropped during the secret war.

Cluster bomb casing planters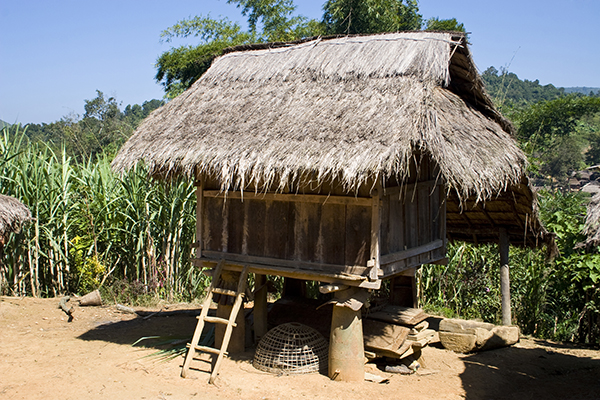 Bomb casings used as stilts to raise houses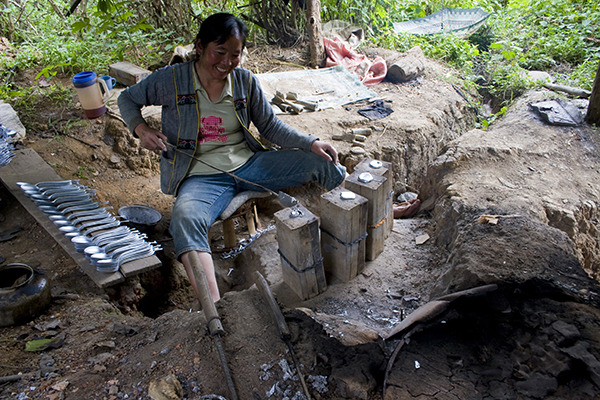 Melting mortar rounds (still found daily in the fields) to make spoons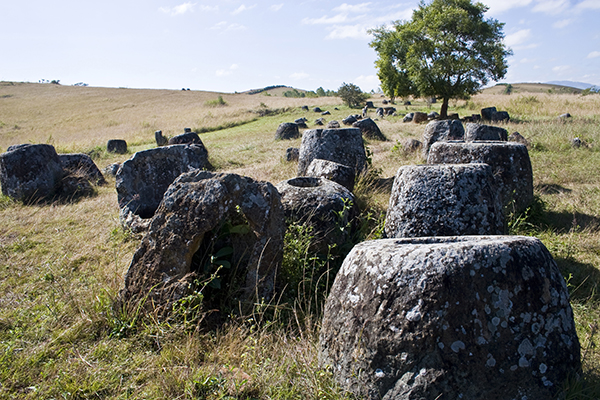 Plain of Jars Site 1, having the most number of jars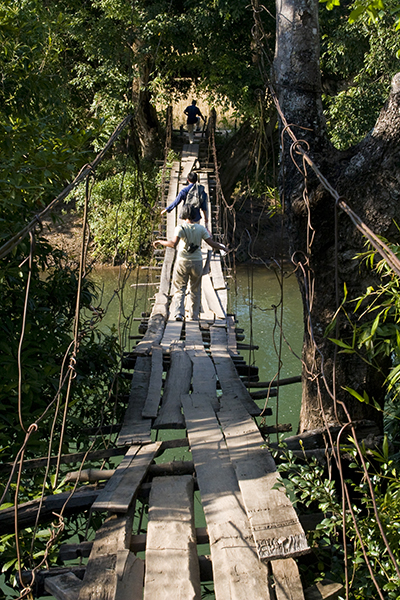 Bridge in Xieng Khouang to the Khmou village Na Sala
More photos from Keith Kelly
Other posts on Laos:
.