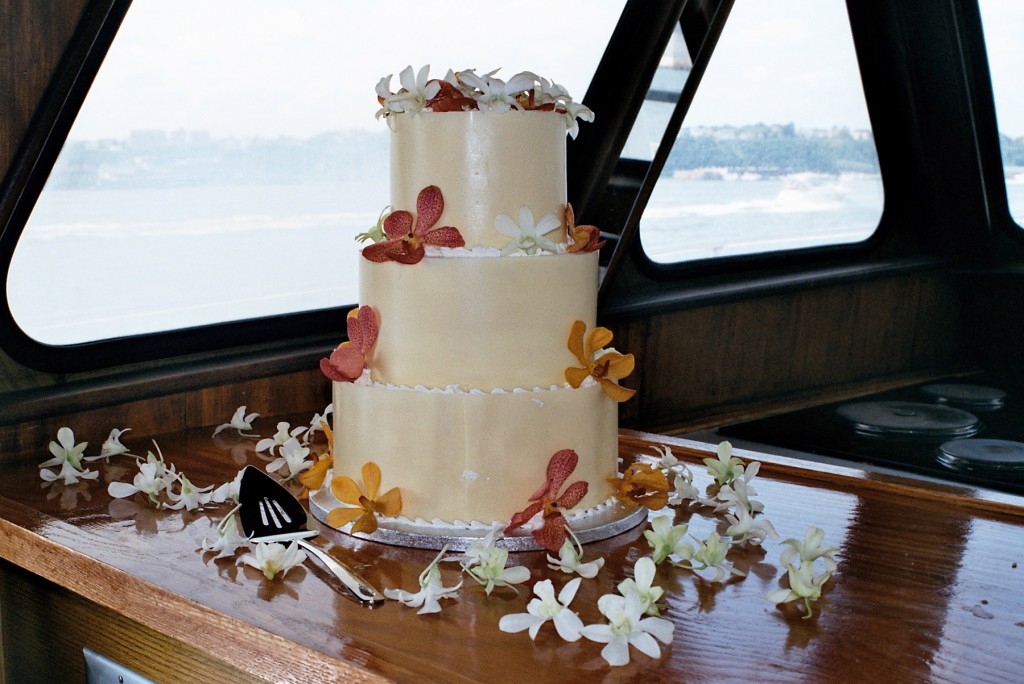 We mark our 10th anniversary this year (wow). It was a small wedding; we chartered a yacht and a live jazz trio for a brunch cruise around New York Harbor with just our closest friends and family. Great memory. Our wedding cake (first photo above) got rave reviews. And now I want to recreate it, but I'll have to experiment a bit because I lost our records.
I wasn't a cake fan. We considered doing without one but we found a pastry chef who, back then, was still practicing and perfecting her craft, so she was open to ideas. The typical western cake flavors weren't very inspiring. I wanted tropical mixes – using real fruits and roots, not powdered versions or syrup flavoring or extracts. She was quite accommodating, and agreed to experiment with the ingredient mix I wanted even though she hadn't worked with them before. Coconut icing? Mango or passion fruit cream filling? Taro cake? Even though it wasn't widely used, she agreed that coconut and mango would complement each other in a cake. But taro? We had several conversations about that.
I love taro. While in grad school in New Orleans I frequented a bubble tea shop. This shop was there way before the bubble tea trend took off. The Vietnamese couple who ran the place used real fruits and vegetables in their drinks, and one day they suggested I try the purple root. I thought they were nuts. I go out of my way to avoid potatoes and anything remotely related or similar in consistency. But I was game, and thereafter I was hooked.
So taro made it into our cake. It became my all time favorite flavor in ice cream, shakes and other sweets. It's popular in Asia because its natural sugars and nutty flavor complements other ingredients well. In Cambodia it's used as a filling in all sorts of foods – fried spring rolls, dumplings, steamed buns, pastries. They mash it up (much like mashed potatoes) and mix it with palm fruit, chopped steamed pumpkin, jelly and shaved ice, then top it with a dollop of sweet or evaporated milk – much like halo-halo in the Philippines.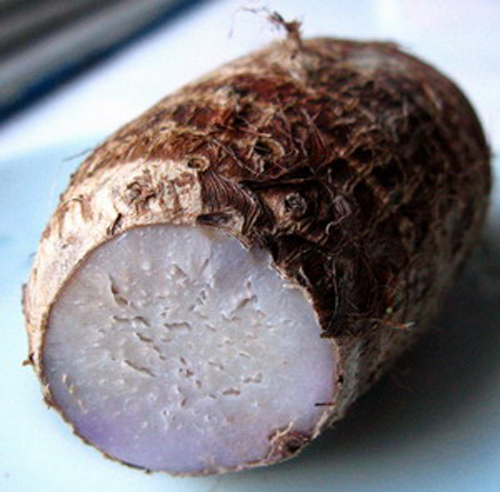 I would never have thought of this root as a dessert ingredient. Would you? The photo above is from a blog post by Ayesha Hak. If you want to know more about taro, she has a very informative post on the origins and uses of taro root around the world.
Now to experiment in these coming months, recreating that awesome cake :-)