On this last stretch of our time here in Cambodia, we've met a lot of new families with questions on what to do with their kids in the city. "Good luck" pops initially to mind. Activity generally means access to some space and fresh air for a bit of exercise. But to be fair, there are plenty of day trip options:
Cambodia Country Club – They have a pool, play tennis and other sports, ride horses etc.
Soun Soben Resort, where they have stocked fish ponds, a pool for the kids, caged animals and lots of running space
Phnom Tahmao Wildlife Rescue Center – This place is fantastic and I can't recommend a day trip here enough. In the time I've been here the guys there have done incredible work rehabilitating trafficked or injured animals and working with some endangered species eg siamese crocodile. You need a car to get from one exhibit to the next. And make sure to stick around the food stalls, to catch one or more elephants taken out for a walk.
Or check out any one of the many resorts located on the national roads straight out of the city.
Closer by for outdoor fun is Koh Pich (Diamond Island). At night there's a popular amusement park for small children, and the wedding halls are overflowing. Families take kids biking there on Sunday mornings when it's relatively quiet, to ride laps around the island.
Phnom Penh has a fantastic length of grassy, open boulevards stretching from the Independence Monument to the river then up towards Wat Phnom. Unfortunately this route was completed in tandem to rising congestion. Nevertheless, there are endless activities for kids:
Chasing pigeons before they roost
Flying kites (the season seems to peak in November)
Watching a hackeysack circle, or a game of badminton or takraw (futbol/soccer with a rattan ball)
Dancing to modern hits with the myriad aerobics classes, complete with speakers cranked to volume capacity (~2000Riel/US$0.50 per adult)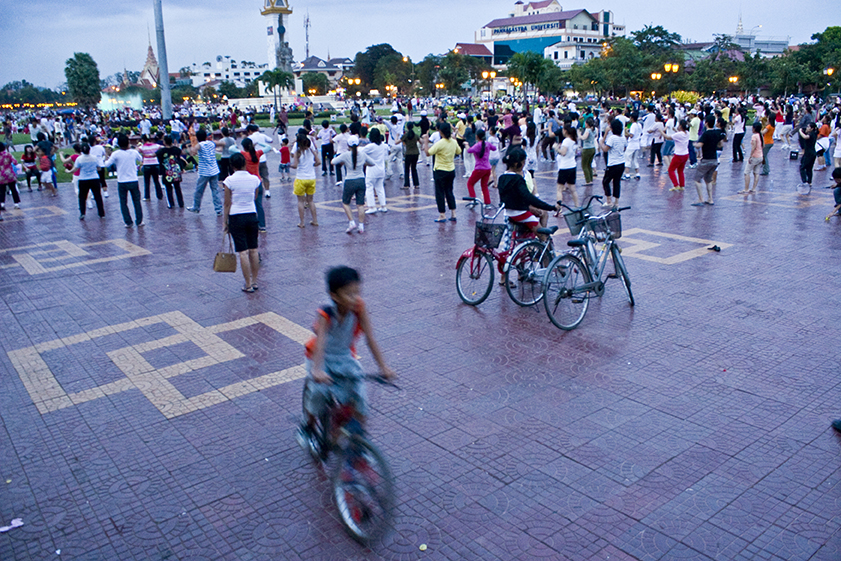 Having a picnic – Food hawkers are plenty, especially towards evening when families come in droves to chow on steamed corn, noodles, fertilized duck egg, fried insects, and many more Khmer delicacies on offer
Beautiful outdoor playgrounds have been built throughout the city with great equipment (though unfortunately with poor upkeep). The two main ones near the city center are on the corner of Sothearos and St 240, and on the south side of Wat Phnom.
Private lessons for different musical instruments seem to be plenty, on top of the formal classes at Simphony and the Music Arts School. Lots of instructors can also be found for private lessons in ballet, dance, sports and of course, tutoring. I just learned how to make soap with a great bunch of ladies, from a Korean soapmaker who sells at the Russian Market.
There is also VIP, Phnom Penh Sports Club and the major hotels (eg Cambodiana, Himawari, Intercontinental, Phnom Penh Hotel, Raffles etc) that have the grounds, that provide lessons for sports, especially for tennis. The biggest schools open some of their school activities to the public, and certainly have summer programs and camps that are open to all – Canadian International School, Northbridge International School, International School of Phnom Penh.
Embassies often work with local NGOs that organize events and holidays to promote cultural exchange. The most active ones are below but there are many more. If a holiday is coming up, check that embassy or consulate's site to find out if events are scheduled. For example, for Purim there is an event at the Chabad Jewish Center. The Indonesian community works with the restaurants and their embassy to host a big party for Eid-al-Fitr (end of Ramadan).
Japanese-Cambodian Friendship Center – They have regular concerts and events. Check their Facebook page and website for these. Currently running is the Kizuna Festival 2015, where they introduce Japanese culture. There is a cuisine show; classes for origami, ikibana and calligraphy; introductory Japanese (language lesson); movies and documentaries.
French Cultural Center – They have a big children's section in the library. There are events every week for everyone in the family (readings, movies, etc), so make sure you get on their email list. The courtyard is a great place for the kids to run around in, especially during happy hour :-) The restaurant food and bar cocktails seem decent.
Art exhibits, movie and documentary screenings, workshops and festivals can also be found at the Meta House, or the German-Cambodian Cultural Center.
Guesthouses springing up all over the city all seem to have swimming pools. Most of these establishments will allow non-guests to use the pool for the cost of a meal or drink purchase. But ask first. Sometimes there is a $5 charge for pool use, even with purchase. The ones we like to bring our 4- and 2-year-olds to are:
Splash Inn (#5 St 244, South of the Royal Palace between Sothearos and St 19) – non-guests can access the pool with $10 purchase
Eureka Villas (#24 St 184, behind the Royal Palace) – non-guests can access the pool with purchase
Lyla Center (36, St. 508, corner of St. 103. Go south on Monivong, past Mao Tse Tung and The Rock, and it's a right turn a couple of streets down) – it's got a huge jungle gym with slides and mushroom with "rain", in the middle of a large shallow pool. Fantastic place space. Avoid during the busy times of evenings and weekends starting at lunch time.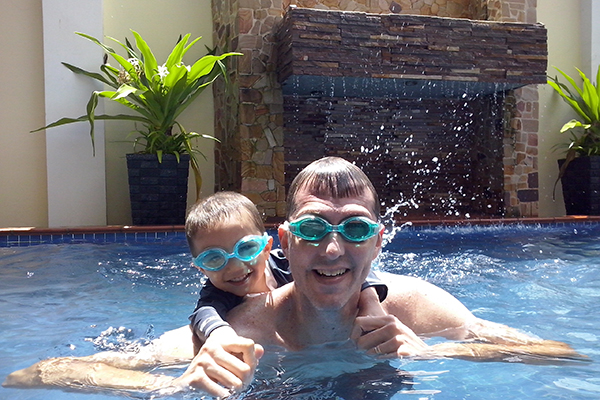 Movies
Flicks Movie House (#39b St 95, which is the next street west of Monivong) – They have a kids' feature every Sunday at 10am.
The Empire Movie House (No.34, St. 130 'Khemarak Phnom', near corner St. 5, 1 block from Riverside Blvd – They have a kids' club every Saturday at 4pm ($1.50 for kids under 12).
For the international releases there are now a plethora of choices: Platinum Cineplex at Sorya Mall, Major Cineplex at Aeon Mall, Legend Cinema at City Mall.
Indoor Playgrounds
Kids City (162A Sihanouk Blvd, near Monivong) – Go-cart, ice skating, climbing wall, jungle gym for toddlers and older kids
Monkey Business (House 16, Street 370 in Boeng Keng Kang 1) – Jungle gym and shallow swimming pool – free up to 6 months, $2 up to 2, $4 for over 2.
Aeon Mall –
Blu-O Bowling Alley (3rd floor) – $5 per person to play in the regular lanes or $100/hr to rent the VIP room with two lanes and a karaoke space
Ice Park (4th floor) – Ice Skating Rink $10/person and they even have cute penguin walkers for beginners!
Kids Park (1st floor) – Mon-Fri $6/kid Weekends $8/kid
Playground (3rd floor inside the Department Store by the kids' department) – $3/kid during weekdays; $4 on weekends. This place has fantastic pretend play areas, a huge inflated rolling cylinder, and a big ball pit.
Dream Games (3rd floor) – pin ball machines, video games, rides for kids, etc. Our experience compared to similar ones back home is that these machines don't let you get far enough to be satisfied, that you'd keep putting coins in.
Restaurants with green spaces are popular and growing. The Shop Too in Toul Kork is fantastic for the grassy area and healthy menu. Farm to Table just opened for the conscious consumer, where the tractor and rustic yard literally keeps kids entertained for hours. Riverside drinks and meals of Himawari and Cambodiana are great places for small kids to bring their bikes and a ball or two.
There are lots of great activities for kids, with many not well advertised. For example, there are playgroups by language (I see occasional postings for Mandarin playgroups for kids to learn the language), a breastfeeding support group that meets at Sambo's Tots (it has a play area for older siblings), Halloween parties at Gecko and Garden and Giving Tree, and last weekend there was a jazz brunch with storytelling for kids at Cabaret Restaurant (reminds me of being in New Orleans!).
Make sure you join the Cambodia Parent Network on Yahoo!groups to get updates on these or other events and services. If you don't find what you're looking for, post a question and you'll likely find someone who can help.