As we were leaving the region to move back home, I did a consultancy that took me to several capital cities to review national health programs. It was a great opportunity for all of us to say goodbye to friends, colleagues and places we've frequented over the past decade. So we packed up the house and shipped, sold or gave away our belongings, and took the kids on a two month journey through Southeast Asia.
I won't lie about my initial apprehension about the arrangement (two months on the road with two kids?!), but between juggling the work and play schedule, getting more efficient at living out of suitcases and finding places and things to do together, it turned into a fantastic bonding experience for us four. (Skip to the bottom if you're just looking for family-friendly recommendations in Laos, Vietnam, Philippines, Myanmar and Cambodia.)
The kids? They amaze us with their adaptability, playing easily with other kids they don't share a language with, and adapting to a different schedule by the day. They slept overnight at airports, ate street food, waded floodwaters through a raging monsoon back to the hotel, got lost and found our way back together. They had to eat what we did (local dishes) or go hungry. In Asia, there's usually some noodle or rice dish that's kid-friendly, and restaurant staff are happy to accommodate kids' requests – like toning down the spice. One thing about Asians is that if you have a kid(s) you get a lot of special attention! Show up without the munchkins and you're just another customer! Have you read Guy Delisle's graphic novel Burma Chronicles? So true across Asia!
How'd we manage the 10 flights and 1 overnight train ride with these two? Make time to eat before going to the airport, especially if getting in your last authentic local meal or budget is a concern. All airports in the region are modernizing or in the process of it, complete with international chains and prices to match for even the crappiest chain food. I never had a bowl of phở or mohinga at the airport that tasted as it was supposed to, on top of it being up to 20x more expensive than the soup shop by your hotel in town.
In our carry-ons we had: Crayons, activity books, stickers. Bite sized candies they can pop whole in their mouth for take-offs and landings like Werther's caramels or gummy bears (anything bigger and it's a sticky mess). A jar of peanut butter because in a pinch a spoonful tames their hunger somewhat. Water bottles (although they usually give kids a bottle of water before the flight). A portable potty even though both are already potty-trained, cuz the bathroom line can get long on a long-haul flight and you never know if you have to sit on the tarmac for some VIP.
We got them their own little rolling luggage with an extra change of clothes and some toys and snacks inside. For some reason this helped them feel like they were little adults so they actually took responsibility for hauling it around.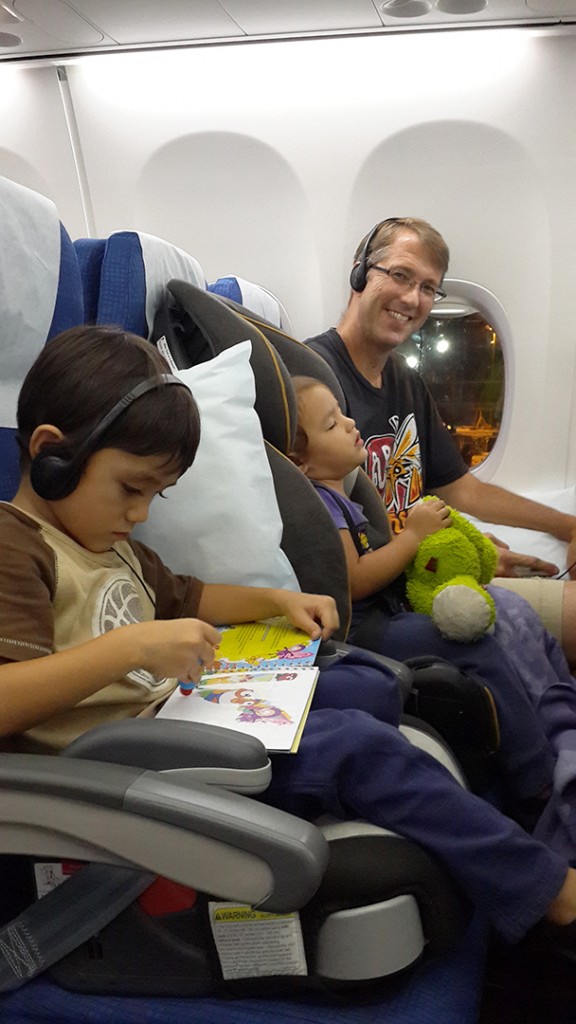 Although not required by the airlines, we also brought a car seat and a booster seat (we need them in the US at the end of our trip). The kids were more comfortable as they got to sit higher and see the in-flight screens, and were more safely strapped in. Make sure it's FAA-approved!
All airlines gave the kids a toy or activity pack. In-flight entertainment was in every aircraft, even for short hops between countries. Some parents swear by Phenergen allergy medicine in case they need to sedate an uncontrollable child, but we've never found the need for it. (Make sure to test it before the flight, where there's access to medical care just in case. Also, some kids have the opposite reaction, going into overdrive instead of falling asleep!)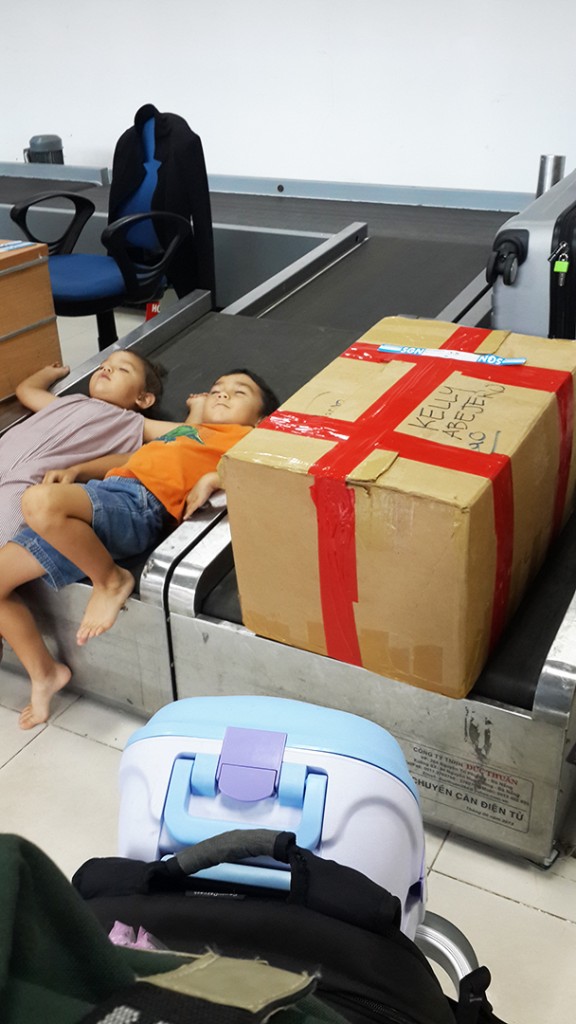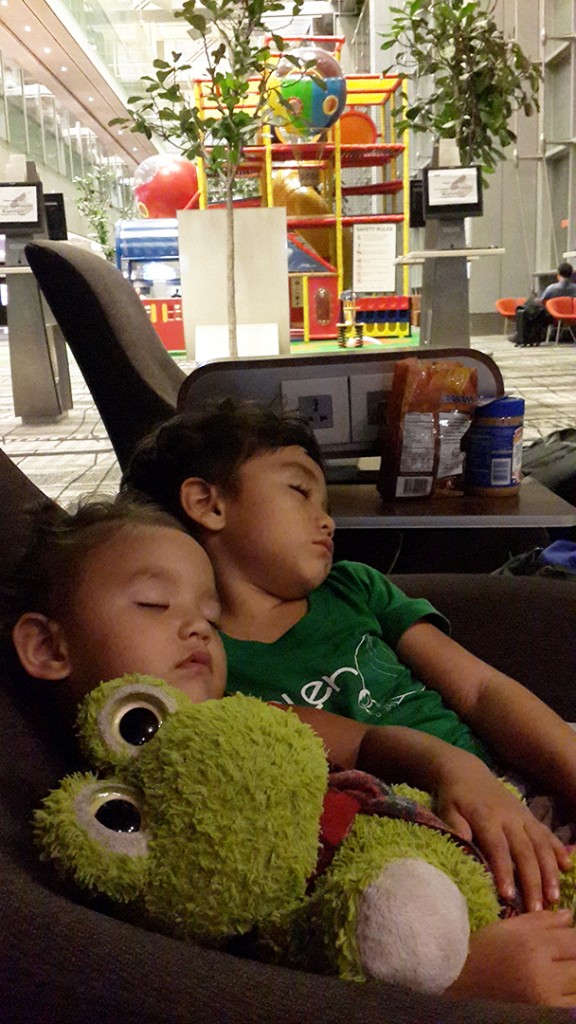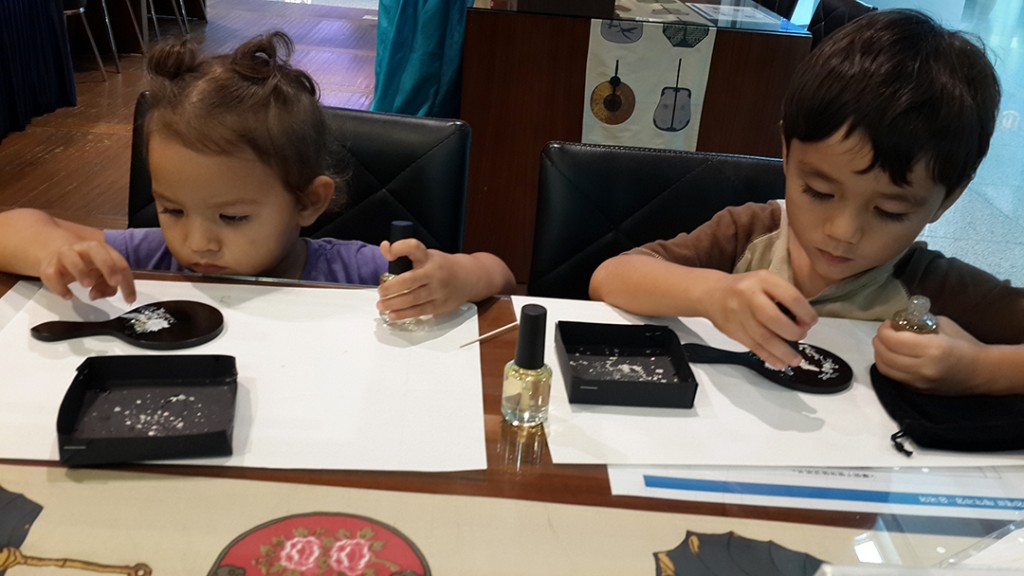 We hit the major hubs several times. They're family-friendly and make a layover pleasant, if not enjoyable. Changi in Singapore has a butterfly garden, koi ponds, playgrounds in every terminal, and comfortable sleeping lounges everywhere. The airport hotel was booked and the layover wasn't long enough to head into town so the kids made do, passing out next to the playground along with other families similarly stuck. Incheon in South Korea does a great job of entertaining kids and families (stop by the Korea Traditional Cultural Center to try your hand at craftworks you can take home).
If anyone is debating a trip through Asia (or anywhere!) with preschoolers, do it! Asia and most non-western countries are so kid- and family-friendly – when one or both began crying they got attention from flight attendants and other passengers, getting extra food and toys or a tour of the aircraft. Plus, no matter how fast things are changing at home, the rapid pace of economic development in the rest of the world is an incredible glimpse into how interconnected we all are. Even small kids can appreciate that.
And when traveling with kids – always talk to that parent nearby with a similar-aged kid(s). Chances are good you'll run into an expatriate living in the city you're visiting, and they can tell you about the best coffee shops and restaurants. One major trend in Asia is making establishments family- and kid-friendly, especially in cities with large expatriate communities. You might just find the best coffee shop in town also has an attached bookstore with indoor playground for the little ones :-)
Recommendations for kid-friendly places and things to do in Southeast Asia:
We usually patronize boutique hotels in walkable neighborhoods and historic centers. We're foodies, and we'll try most anything. Sadly, as things modernize a lot of street food gets increasingly pushed to the fringe, making way for Euro-palate-friendly muffins and breads which dominate the growing cafe scene across Asia. Take Khmer pastries – like breads stuffed with pork floss – you can only get them at bus stations and local shops, which can be a turn-off for many people who stick to the more beaten tourist tracks. We look for these foods.
Vientiane, Laos:
Ask the hotel staff to help you get a sim card. It's US$2 for the sim, and US$20 load was sufficient for me to use the internet on my phone for the two weeks I was there. (Ask the seller to set you up for a month of internet service).
Hotel and location – Find a hotel on the riverside or near Rue Francois Ngin and Rue Nokeokoummane, if you like to be in a bustling area (which even in the capital is hard to find). Things have gotten more expensive in Laos in the past 10 years because of the investment atmosphere, but a good-sized family room for us ran around US$67.
Laundry – In other hotels in Vientiane, laundry was ~US$30 for 4kg, which was a few days' laundry for the four of us (it's the hot season and you change clothes more than once/day). This location seems to be a happening area – there are lots of travel agencies, lots of choices for local or international food and reasonable laundry prices eg US$1/kg).
Food – Laotians love barbecues! Go to the riverside for dinner at least once and order laap, a traditional meat dish with a nice contrast of raw textures and flavors. Beer Lao is a nice light beer, and there is also a Beer Lao Dark which we like better. The riverside is a tourist area so for four people it can set you back ~US$30, which includes seafood and alcohol. At the intersection of Rue Francois Ngin, across from the Cafe Sinouk in the picture below, is an incredible street noodle seller. For ~US$1 you get a huge bowl of amazing Lao soup (portions in Laos tend to be bigger than in the rest of the region).
Transport – Get a number from the concierge for the metered taxi as they aren't plenty. To hire one for the day it is around US$70/day for a strict 8 hours, and that goes up if you are at an upscale hotel. Khamla seems to be a good guy, and I think he mentioned that a van for the day was ~US$85 (business card below).
Hanoi, Vietnam: 
Get a sim card near your hotel. It's US$1 for the sim, and US$20 load was sufficient for me to use the internet on my phone for the two+ weeks I was in the country. (Ask the seller to set you up for a month of internet service).
Hotel and location – I can't recommend Hanoi Paradise Hotel in the Old Quarter enough. It is a FANTASTIC place for families and professionals to stay, with staff so incredibly helpful I thought they were family-run (they're not related). There's a small indoor pool where you'll meet other families with kids. Rooms are big, but unfortunately few rooms have windows to the street. Old Quarter is awesome for the culture, history and food. Just get out there and get lost in the chaos (sidewalks are not for walking!). People are friendly and helpful.
Laundry – Prices are reasonable, within US$1.50/day. Leave your laundry in your room's laundry basket for daily collection.
Food – Get out on the street and try everything! The food is fantastic and there are lots of options in Old Quarter. Just outside to the left of the hotel is a really good bun chaa seller. Bun chaa is barbecued pork patties served with about 6 other small side dishes that you can mix into a bowl of vermicelli noodles. If you want to try one of the oldest restaurants that serve this meal, go to the famous Bun Cha Nem Cua Be Dac Kim (pictured below at 67 Duong Thanh Street, Old Quarter). Staff at Hanoi Paradise Hotel will tell the cab where to take you (not far from the hotel). Home brewed beer – if that's your thing – is cheap and available everywhere. So is coffee (try an egg latte!)! Great to sit at the short stools on the street and people watch.
Taxi – There are so many metered taxi companies, and it was so easy to call one when at the hotel (arrives within 2 minutes of calling the dispatcher) or flag one on the streets, that we never bothered to hire a taxi for the day. It is ~US$2-5 to get anywhere within the city (extremely reasonable).
Huế , Vietnam: 
Hotel – We at stayed at Thanh Noi Hotel, a 5 minute walk from the Imperial City (Citadel) – most people stay across the Huong River. It has an outdoor pool, a set menu breakfast including some local food, Wi-Fi.
Laundry – It was about US$1.50/kg so it wasn't too bad.
Food – I should write a post on the foods here. As foodies we loved Vietnam and Hue! Find a great guide (ours was our taxi driver, below). Whether s/he speaks English is irrelevant because everyone knows someone who does speak English (who they will get on the phone to talk to you) and you will somehow get your request across – you won't be disappointed! Don't leave this city without ordering and trying these foods: bánh canh cá lóc, bun bo huế, cơm hến.
Transport – Call this guy below; he was incredible! He took us on a fantastic culinary tour of Hue (which is the traditional royal cuisine). His English is not good, so he will return your call with his sister who is fluent. Or you can call her straight at 01276576431. It was ~US$25-35/day but we gave him more than that because he also entertained the kids so we can eat in peace.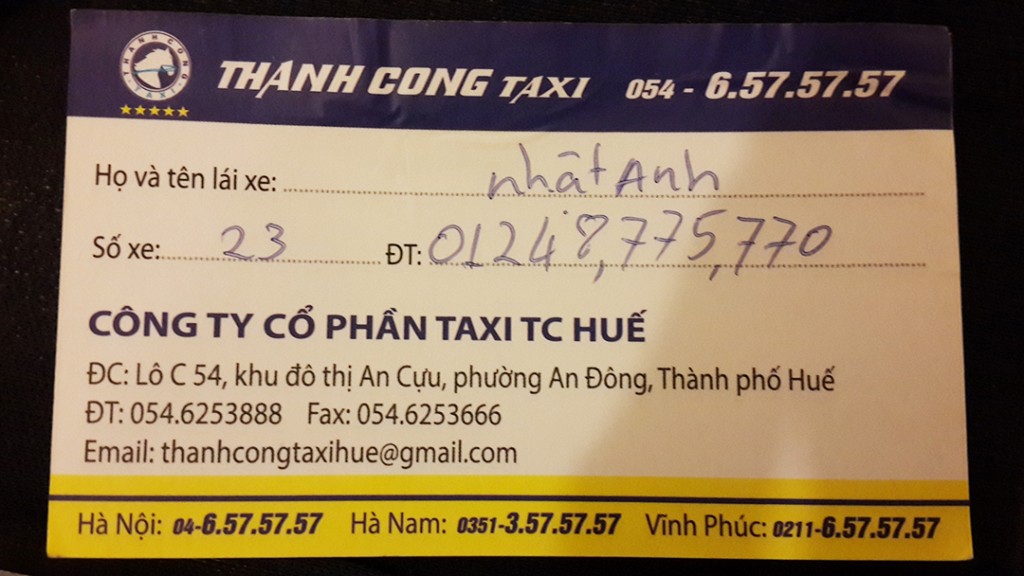 Manila, Philippines:
Get a sim card near your hotel or just hit up one of the local shops (tiendas). It's US$1.50 for the sim, and US$20 load was sufficient for me to use the internet on my phone for the two weeks I was there. (Ask the seller to set you up for a month of internet service).
I stay with family when I'm here so I can't recommend a place or how much it is to do laundry! All I can say is Quezon City is a good place to start looking. Stay central. Everything is certainly very reasonable compared to other countries in Asia, unless you are at the upscale hotels, restaurants or tourist hubs.
Food – A lot of people feel that Filipino food is bland compared to other Asian foods. In some ways I agree, but I grew up with it and love it :-)
Transport – Renting an 11-person van for a day is ~Philippine Peso 2500/day depending on itinerary (~US$62 depending on the exchange rate). Call Edwin 09167962817 and if he is busy (he usually is), then he can give recommendations on other drivers.
Yangon, Myanmar:
Get a sim card for Ooredoo at the airport exit lobby. It's US$1 for the sim, and US$20 load was sufficient for me to use the internet on my phone for the two weeks I was there. (Ask the seller to set you up for a month of internet service).
Hotel – I highly recommend Clover Hotel on Wingabar Road, Bahan Township (there are three of them), walking distance from Shwedagon Pagoda and Kandawgyi Lake. We liked the location because it was relaxed and quiet. A big family room is around US$70, and there's a decent view of the Shwedagon Pagoda at the rooftop restaurant where we had a sundowner beer every night. If you like the hustle and bustle of city life then look for a hotel downtown, like near 19th St or Chinatown.
Laundry – I think we paid US$20 for 4kg of clothes at the hotel, and it was similar at the drop-off laundry shop downtown. Things are not cheap here.
Food – I loved the noodle soups and curries, and the tea leaf salad, which was different at every place I ordered it. I should write a post just for our food photos here.
Taxi – There are always a lot of taxi drivers outside the hotel who can be hired by trip or by the day. Ask for the woman, Yimon (+959790700799). She's fantastic and she speaks English. Other options recommended to me by the UNAIDS staff: Thant Zaw 09796569121, Ko Chan 095022667. A daily hire will set you back ~US$35.
Nya Pyi Taw, Myanmar:
Hotel -The city is almost eerie for its wide highway-style streets and sanitized orderliness, with not many other cars out there with you! I was supposed to stay overnight, either at Sky Palace Hotel which was recommended for its homeliness and friendly family feel, or Kempinski Hotel (5 star) if I wanted a pool and a more comfortable stay. But I just flew up for the day and returned to Yangon that night.
Laundry – If budget is a concern, try to do minimal laundry while in Myanmar. Even the drop-off locations in Yangon are expensive (I think I was quoted US$20 for 4kg of clothes).
Taxi – U Myit Oo 0943019023 or 0949210613, also recommended by UNAIDS staff. He's fantastic, and a day's rate is ~US$65.
Phnom Penh, Cambodia:
Get a sim card at the airport exit lobby. I use Mobitel because barangs (foreigners) are on this network and most Khmers also have a Mobitel phone to do business with the barangs. It's US$1 for the sim, and US$20 load was sufficient for me to use the internet on my phone for the two weeks I was there. (Ask the seller to set you up for a month of internet usage).
Hotel – I can't recommend Eureka Villas enough for the fantastic family rooms they have (photos below). That's one master bedroom and an adjoining room with two bunk beds (4 full size mattresses). The rooms are well thought out. There's a great outdoor pool for kids. It's centrally located, right behind the Royal Palace.
Laundry – Laundry tends to be reasonable in the city (except in the upmarket areas), so around US$1/kg).
Food – Do a search for food on this site. Khmer food is distinct from Lao and Thai dishes, while at the same time you can see the roots in all three.
Taxi – For around town it is ~US$25/day. For trips out of town call Sokhon 012927247; Sna (Golden Travel) 089472386; Marady 012494081. They are recommended by many parents for their record of being reliable and safe. They all speak English but they may give you someone who doesn't speak English. If you care, ask for an English speaker or for them to personally drive you.
Tuk tuk – For around town it is ~US$15/day. For day trips it depends on how far and if the roads are good. Call Saneg 017458977, Sina 067299318, Key 012628045, Lim 092128677, Raksmey 012561974, Sarong 077654353. They're all based either in Boeng Keng Kang or the riverside, so just tell them what hotel you are at and they're happy to come get you. Ask the hotel staff to help you by talking to them in Khmer.